Custom Search
Air-Conditioning: 9 Tips to Reduce Your Energy Bill

Lucky you. You've got air-conditioning.
Lucky you. You've got AC bills.

Here's how to save a little cold cash while you chill - so you don't have to worry about the bill (too much).

1. Keep the air on during the day - and off at night.

Open the windows to take advantage of night's naturally cooler air.

2. Turn the thermostat to 75 degrees.

Suffer a little heat now, reap the monetary rewards next month.
3. Turn off the lights when you leave a room.

Light=heat=harder-working AC. 'Nuff said.

4. Use fans in upstairs rooms.

You'll save money here by helping the chilled air circulate.

5. Shut out the sun.

Close curtains and blinds during the day in rooms that aren't being used.

6. Think white; and think awnings.

White shades reflect light and heat better than darker ones. Awnings help, too.

7. Tighten up more than your wallet.

Check your home's doors and windows for cracks or gaps that allow hot air to seep in. Recaulk if necessary. Make sure your home is well-insulated.

8. Replace filters.

Change your AC filter every three months.

9. Turn off the TV.

It generates heat, too. (Sorry, kids!)

For more ways to save, see the May Home Checklist.

Suggested Reading

Return to Maintenance & Repair from Air-Conditioning

Return to Home

About the Author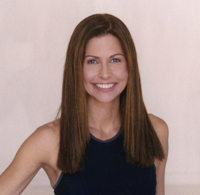 Tara Aronson is a native Californian. Having grown up in San Diego, she studied journalism and Spanish to pursue a career in newspaper writing. Tara, whose three children - Chris, Lyndsay, and Payne - are the light of her life, now lives and writes in Los Angeles. She also regularly appears on television news programs throughout the U.S.