bathroom chores for kids by age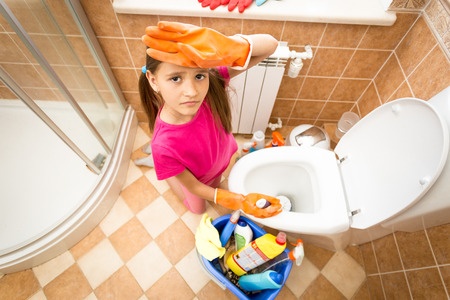 Kids can help with bathroom cleaning, with appropriate chores depending on their age.
Getting kids to help with bathroom chores isn't easy, especially in the beginning.
Besides, how much help can you realistically expect from a child when it comes to cleaning sinks or scrubbing toilets?
These bathroom chores for kids by age can help you set realistic standards.
However, you'll want to be there the first time your child tackles a new task, regardless of age. These bathroom chores for kids by age can help get the cleaning started.
bathroom chores for ages 2 and under:
Put the seat down on the toilet and flush.
Put dirty clothes in the hamper if the top is low enough.
Put tub toys in bins or drawers.
ages 3 to 5:
Previous chores, plus:
Put tub toys in the proper nets or bins.
Rinse out the sink after use.

ages 6 to 9:
Previous chores, plus:
Hang up towel (on towel rack).
Sweep or vacuum floor and damp-mop any spills.
Wipe smudges from walls and door.
Empty and wipe wastebasket clean, using disinfecting wipes.
Wash inside and outside of cabinets.

ages 10 to 13:
Previous chores, plus:
Kids age 10 to 13 can disinfect countertops and clean windows and mirrors.
Wipe chrome fixtures and mirrors clean.
Disinfect light switches and doorknobs.

chores for teens:
Previous chores, plus:
Disinfect the sink and drain.
Get bathroom cleaning tools to get you started cleaning with kids at the Clean Organized Home Store.
---
More Cleaning Stories
Related Stories
---
---
About the Author


Tara Aronson is a native Californian. Having grown up in San Diego, she studied journalism and Spanish to pursue a career in newspaper writing. Tara, whose three children - Chris, Lyndsay, and Payne - are the light of her life, now lives and writes in Los Angeles. She also regularly appears on television news programs throughout the U.S.