Family bathroom cleaning
and organizing tips
The bathroom is usually the busiest, most used room in the house.
As a result, keeping the bathroom clean and organized is a daily challenge.
Now add in a few guests during the holiday season, and things can really get tricky. The cleaning and organizing tips below can help.

Of course, you'll want to make sure the guest bath is both clean and welcoming. The kids can help by doing age appropriate chores so you don't have to do it all.
Here are quick, easy ways to clean the tub and shower and 9 ways to get rid of icky mold and mildew once and for all.
---
how to clean the toilet.

If your family is flush with reason not to deal with the essential weekly toilet cleaning, tell them to have a seat and relax.
Today's household cleaners make this once-tedious task a breeze. They even work on a potty that's been neglected for a while.
This is a job for the teens and adults in your home, as disinfectant cleaners are strong, a toilet bowl cleaner especially, and when used incorrectly they can damage surfaces - and kids.
Here's the right way to clean your toilet.
---
how to unclog a stopped up sink.

When you have a clogged drain, pouring liberal doses of very hot water down the drain will often help by melting greasy clogs away.
If that doesn't cut it, here are three ways you can unclog the sink yourself.
Not only will you save money by not hiring an expensive plumbing service to do the simple work for you, but you'll save time by not having to spend half your day waiting for your plumber to make an expensive appearance.
---
the shared family bath schedule.

When shared by kids, this busy room presents a parent's paradox: You can't get your school-age kid into the shower, and you can't get your toddler or teenager out.
What's a water-conscious mom or dad to do?
These 4 simple scheduling tips can help conserve water and tame morning-rush tempers.
---
more stories:
Clean Home
› The Family Bathroom
About the Author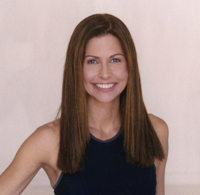 Tara Aronson is a native Californian. Having grown up in San Diego, she studied journalism and Spanish to pursue a career in newspaper writing. Tara, whose three children - Chris, Lyndsay, and Payne - are the light of her life, now lives and writes in Los Angeles. She also regularly appears on television news programs throughout the U.S.