The Family Bathroom

Easy Tips for Keeping This Room Hygienic - Both Because of Kids
And In Spite of Them.


The bathroom is usually the busiest, most used room in the house. Keeping it clean and organized is a daily challenge.
Now add in a few guests during the holiday season ahead, and things can really get tricky.

Of course, you'll want to make sure the guest bath is both clean and welcoming. Here are quick, easy ways to clean the toilet, tub and shower and to get rid of icky mold and mildew once and for all.
Once surfaces reappear, organize all the items you use there daily to make better use of this precious, limited space.
And if cleaning doesn't have this room sparkling, you might want to consider recaulking the tub or shower. It is a surprisingly easy job that you can tackle yourself.
And it goes a long way toward making the entire room look sparkling clean. With the holidays fast approaching - and with it guests galore - it might just be worth a little extra time spent buffing this busy room now so you can relax and enjoy the festive season ahead.
Suggested Reading

Clean Home
› The Family Bathroom
About the Author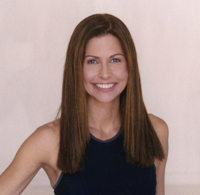 Tara Aronson is a native Californian. Having grown up in San Diego, she studied journalism and Spanish to pursue a career in newspaper writing. Tara, whose three children - Chris, Lyndsay, and Payne - are the light of her life, now lives and writes in Los Angeles. She also regularly appears on television news programs throughout the U.S.