bed bug removal tips
Bed bugs (Cimex lectularius) have been around and annoying innocent sleepers since the time of Aristotle.
While the ranks of these annoying pests were nearly decimated decades ago thanks to the toxic pesticide DDT, it proved a short-term victory.
Now that DDT is gone from our pest control arsenal, they're back, seemingly with a vengeance.
Here's what you need to know about bed bug removal - and bed bugs themselves - to help you identify an infestation if you have one and how to safely eliminate it.
what do bed bugs look like?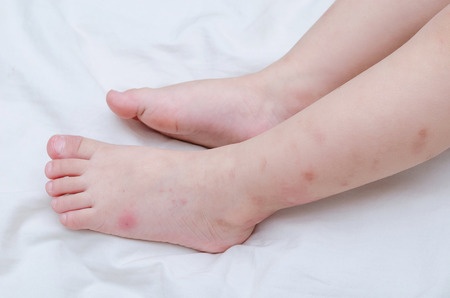 Bed bug bites are sometimes mistaken for mosquito bites.
know the signs of a bed bug infestation.
Once bed bugs get into your home, the best way to detect them is not through their bites (which are often misidentified as they can look like mosquito, flea, or spider bites, even hives).

Instead, look for physical signs of bed bugs around the mattress, box springs, bed frame, and areas around the bed. Here's what to look for:
Rusty red stains

on bed sheets or mattresses caused by crushed bed bugs.
non-chemical bed bug removal treatments.
Getting a bed bug infestation under control takes time and patience. There are a variety of non-chemical approaches that have been shown to be effective.
Here are a few to consider if you have an infestation of bed bugs:
Toss bedding and clothes into the dryer at the highest temperature setting for best pest control results. Just washing these items generally won't kill bed bugs.
Encase the mattress, box spring, and pillow in dust or allergen preventing covers to both trap bed bugs and help detect infestations.



chemical bed bug removal treatments.
Use the Environmental Protection Agency (EPA)

Bed Bug Product Search Tool

to find a pesticide product that meets your needs. T

here are more than 300 products registered by the EPA for use against bed bugs - the vast majority of which can be used by consumers.
visit the bed bugs registry.
The Bed Bug Registry is a free, public database of user-submitted bed bug reports from across the United States and Canada. Founded in 2006, the site has collected about 20,000 reports covering 12,000 locations.
---
---