What to Include in your car first aid kit 
We spend so much time on the road with rambunctious kids, it just makes sense to be prepared for anything life throws our way.
Below you'll find the first aid kit items you won't want to be without for both big and little bumps and collisions on the road ahead.
You can pack these first aid supplies in anything you have on hand - a backpack, a small suitcase, or simply a recycled plastic or paper bag.
essentials for your car first aid kit.
Here are the basics you'll want to include in your car first aid kit: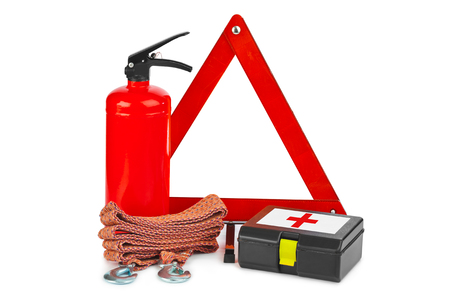 A car first aid kit is essential if you regularly tool around with rambunctious kids.
Antiseptic wipes or ointment, burn ointment, and hydrocortisone cream;
Emergency contact list. (Just in case your babysitter is driving when an accident occurs. Include contact info for the doctor, the orthodontist, and even the veterinarian if you bring the dog along for outings);
First aid manual with CPR instructions;
Over-the-counter medications such as kids' Tylenol or Motrin and aspirin (not for anyone under 12, however);
Prescription medications (Store prescriptions that you or your kids might need if you get stuck somewhere unexpectedly, including inhalers for your little athletic asthmatic, in childproof containers);

Tweezers for bee stings or splinters;
Finally, complete your kit by storing a "Send Help" sign nearby. Just pray you or your designated driver never need it. If you remember to charge your cell phone, you probably won't.
Shop The Clean Organized Home Store for first aid kits, kids car games, organizers, and more.
Related Stories:
---
---