7 tips to keep your christmas tree alive
what you can do - from when you buy your tree to its placement in your home - to keep it alive and fresh until santa comes.
Spray your tree with antitranspirant to keep water from evaporating from the needles.
1. choosing your tree.
Most species of evergreen trees hold up well if you buy them fresh in your neighborhood or from a local nursery. Simply choose the type of tree you like best. 
Wait to buy your tree until two weeks before December 25 (if you possibly can).

Is it better to buy pre cut trees (the ones in the lot or shop) or to cut your own at a Christmas tree farm? Trees are fresher if you march out to the farm and cut it yourself.
2. location, location, location.
Place the tree in a location that's away from all heat sources - including the sun.
If you do end up placing your tree by a window, keep the blinds or curtains closed during daylight hours to keep your tree from drooping before its time.

3. Think Protection.
Put plastic sheeting under the tree stand to protect the floor from scrapes, and to protect it in case of spillage.
4. Remember to Hydrate it.
Place the tree in a stand that holds at least a gallon of water.
Fill it with warm water to keep pitch from forming. Because you will, of course, remember to water it regularly this year, right?
5. Be Vigilant.
Check the water supply a couple times a day - especially in the beginning when the tree can absorb a gallon a day.
6. don't miss the cut.
If you let the water level drop below the cut, sap will form and you'll have to remove the tree to make a fresh cut.
This is tricky, to say the least, if you've already put on the ornaments.

7. Add Antitranspirant.
Spray your tree with antitranspirant to keep water from evaporating from the needles.
In fact, resolve to keep the entire tree as hydrated as you possibly can this holiday season.
And when Santa drops in come Dec. 25, he'll find a fresh, fragrant tree to place gifts beneath.
---
more stories:
---
---
About the Author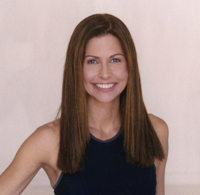 Tara Aronson is a native Californian. Having grown up in San Diego, she studied journalism and Spanish to pursue a career in newspaper writing. Tara, whose three children - Chris, Lyndsay, and Payne - are the light of her life, now lives and writes in Los Angeles. She also regularly appears on television news programs throughout the U.S.