tips for guests sharing sleeping space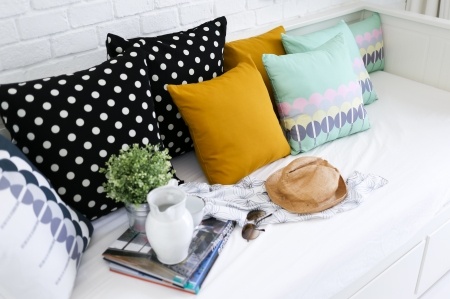 If your guest will be sleeping on the sofa bed or in another shared space in your home, go to extra lengths to provide her with some privacy.
If a room of one's own simply isn't in the (house) plan for guests, you can make the most of a cot or inflatable bed placed in the living room.
These tips for make your overnight guest comfortable in a shared space will help ensure everyone has a great visit in your home - and enough space of his or her own.
provide privacy for guests sharing sleeping space.
Provide piracy for your guests sharing a community area for sleeping in your home - or at least the feeling that there is some. A decorative screen or room divider placed between the sleeping area and the main area can make a world of privacy difference.

You can use it as a decorative accent when visitors aren't around. Position the sofa so that it faces a wall or corner instead of directly into the room. Remind the kids that this room is not to be used until your guest rouses herself. (Emphasis on the last part.)

These aren't essential appliances to offer, but providing them might get you back in the will.
Coffee maker and cups (for really early risers).
Small refrigerator. (You know, the kind you used in the dorms. Stock it with a few bottles of water and juice and a snack or two.)
Travel-size steamer or iron.
provide guests sharing sleeping space with some cozy extras.
More extras: These lovely amenities are simply icing on the cake.
Basket of food (fruit, cookies, crackers, tea bags and instant coffee).
Basket, bowl or other empty decorative container so your guest has a visible place for keys, jewelry, and other essentials.
Lint brush. (Especially if you have pets.)
Warming rug next to the bed (if the floor is hard and cold).
Visit the Clean Organized Home Store for everything you need to make guests sharing sleeping space comfortable in your home.
---
More in Home Decorating
Related Pages
---
---
About the Author


Tara Aronson is a native Californian. Having grown up in San Diego, she studied journalism and Spanish to pursue a career in newspaper writing. Tara, whose three children - Chris, Lyndsay, and Payne - are the light of her life, now lives and writes in Los Angeles. She also regularly appears on television news programs throughout the U.S.