4 kitchen food safety tips
Contaminated food is the worst. 
These tips for defrosting dinner, avoiding cross contamination while preparing foods, cooking entrees throughly, and eating hot foods while they're hot will help ensure there won't be any food-related tummy aches in your home.
Here's what you need to know to keep your family safe at meal times.
  1

 food safety tips for defrosting dinner.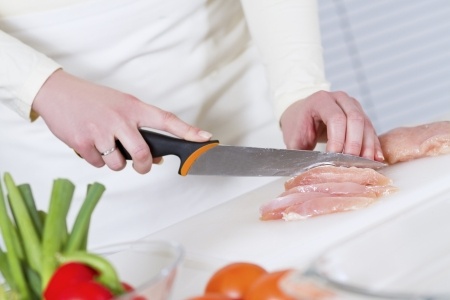 Clean surfaces thoroughly after preparing raw meats.
Defrosting food in the refrigerator: Thaw frozen meat overnight; large cuts may take longer to defrost so figure that into your meal planning. 
Cook thawed items or refrigerate promptly once they've reached room temperature.
  2

 food safety tips for preparing dinner.
Wear rubber gloves. 

This is especially important if your hands have cuts or abrasions.
When pounding chicken or meat, cover with a layer of plastic wrap.

This will help to avoid splattering juices onto other foods and surfaces.
  3

 cook food safely by checking interior temperatures.
Cook dinner to these internal temperatures to ensure food safety when preparing the family meal:

Fish: 140 degrees F (60 degrees C)
Ground beef: 160 degrees F (83 degrees C)
Poultry: 180 degrees F (83 degrees C)
  4

 final kitchen food safety tip: eat while it's hot.
Eat hot foods while they're still hot; cold foods while they're still cold. Date leftovers and use them promptly. If in doubt about freshness, toss it out.
It's not worth the risk to your family's health.
---
---