how to clean blinds and miniblinds
Dust, vacuum, or blow dry blinds regularly, especially along the floor.
When I was a kid, part of spring cleaning was taking down all the mini blinds and window blinds in the house and doing a through blind cleaning and grime removal routine on each.
A really big part of spring cleaning was hanging them all back up. (I hated spring cleaning.)

Washing the window blinds was the only fun part. We would put them in the wading pool and scrub them. Often, we'd wash the dog while we were at it. (The dog hated spring cleaning, too!)
Today, miniblinds still get dusty and grimy. And I've found an easier way to give these dirty slats the deep cleaning they require.
clean mini blinds where they hang.
The new, easier cleaning solution? Just clean them where they are.
Of course, for the old fashioned among use, there are plenty of professional blind cleaning services out there who will do the job the old fashioned way for you. 
But it's costly. And why hire a professional service when cleaning window blinds at home is so easy today?
Blind cleaning products you'll need:
a vacuum cleaner or blow dryer;
a few squirts of hand dishwashing liquid;
how to clean aluminum and vinyl miniblinds.
Dust, vacuum, or blow dry blinds regularly, especially along the floor. If you have pets, use a pet brush to remove pet hair.
Clean aluminum or vinyl blinds with a damp cloth. Leave a light film of detergent on the vanes to reduce static electricity.
cleaning wood blinds.
To clean wood blinds, tilt the louvers almost all the way up, and wipe them with a cloth moistened in a mild solution, such as a few squirts of hand-dishwashing liquid in warm water.
Clean as far into the eyelet holes as possible at the end of each row of mini blinds.
Don't scrub too energetically, however: You may end up removing more than just the grunge - you might also remove the surface design or color.
Then tilt them almost all the way down, and wipe again. This ensures that you clean the middle, too.
Don't get stained wooden blinds wet, because water could damage the finish. Instead, clean them with lemon oil or a wood furniture cleaner.
Some window shades, valances, and curtains are washable, especially if they aren't lined.
Before washing, examine for sun rotting. If they have rotted, don't bother washing them. Just replace them.
If they're not washable, you'll have to defer cleaning these yourself, and instead have them professionally cleaned.
---
more stories:
---
---
About the Author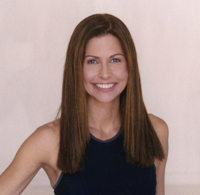 Tara Aronson
Tara Aronson is a native Californian. Having grown up in San Diego, she studied journalism and Spanish to pursue a career in newspaper writing. Tara, whose three children - Chris, Lyndsay, and Payne - are the light of her life, now lives and writes in Los Angeles. She also regularly appears on television news programs throughout the U.S.