pet chores for kids by age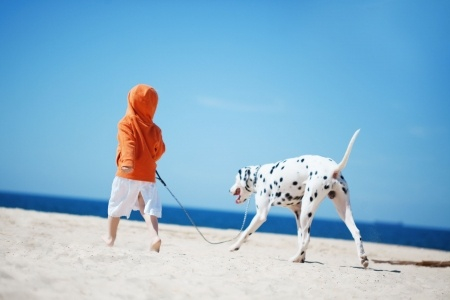 Kids age 6 years and up can help exercise pets.
When it comes to pet chores, at what age can a child be realistically expected to clean the cat litter box? Wash the dog? Help give pets vitamins or medications from the vet?
The answer depends on the child's age. Below I've listed examples of pet chores that kids can generally do by certain ages.
Your child may be capable of doing a chore sooner or later, depending on her level of concentration, fine-motor skills, or maturity.
pet chores for kids ages 2 and under:
Play (supervised) with pets.
ages 3 to 5:
Put pet toys in the proper boxes or bins.
ages 6 to 9:
Wipe up spills and kibble from floor.
Help clean the pet cage and/or litter box.
ages 10 to 13:
Clean fish/reptile aquarium.
Help give vet medications or vitamins to a pet.
Teens can clean out a cat's litter box or pick up the dog's poop (with bags, of course).
ages 14 to 17:
Scoop and clean out the litter box.
Deal with pet waste, such as picking up the dog's poop (in dog waste bags, of course).

Get a room-by-room guide to age appropriate kids chores here.
Visit the Clean Organized Home Store for the pet supplies and products to help make it easier for kids to successfully complete pet chores.
---
More Stories
Related Pages
---
---
About the Author


Tara Aronson is a native Californian. Having grown up in San Diego, she studied journalism and Spanish to pursue a career in newspaper writing. Tara, whose three children - Chris, Lyndsay, and Payne - are the light of her life, now lives and writes in Los Angeles. She also regularly appears on television news programs throughout the U.S.