how to remove carpet pet stains
It's inevitable. Even the best pet makes a mess sometimes.
Below are the tips and techniques you'll need to remove pet urine and feces stains and odor from your carpet.

how to remove carpet urine stains.
Carpet cleaning is most often successful when you attack stains - especially pet stains - while they're still fresh.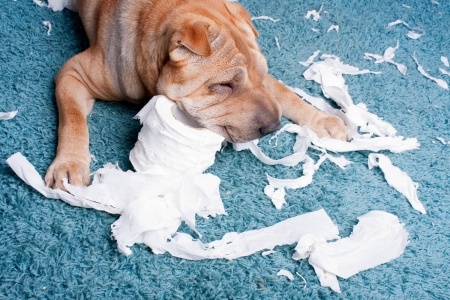 Pet accidents on carpet and upholstery can be removed if you attack them while they're still fresh.
Once you can no longer see the carpet stain, rinse the solution from the carpet. Again use paper towels or a clean rag, blotting clear

water on the stained area to gently rinse the cleaners from the fabric pile. 
how to remove carpet pet stains from... the party pooper.
No one said carpet cleaning solutions for pet stains would be pleasant, right? But if it can get rid of the smelly problem, it might just be worth it.
So here we go:
To remove lingering carpet pet odors, sprinkle baking soda on the spot. Let it sit overnight, and then vacuum up.
This might also be a great time to consider the benefits of a good pet trainer. Finally, make sure that you're doing all pet clean ups safely to prevent zoonotic diseases.
Visit the Clean Organized Home Store for the carpet-stain products and supplies to help remove carpet pet stains.
Related Stories:
---
---