How to Remove Rust laundry Stains
iron in the water or leaky pipes are the two most common causes of rust laundry stains.
Iron in the water or leaky pipes are the two most common causes of rust laundry stains.
Rust stains on clothing - those yellow, orange, or brown stains or spots, or overall discoloration - are caused by one of two things going in your home:

You've got iron in water going to the washing machine, or;
You've got leaking pipes, likely caused by an older water heater.
Here's what to do for each, and stain removal tips for existing stains:
1. Iron in Water.
Water in the laundry process helps dissolve soils and stains and carries them away from the fabrics. The water quality directly affects how clean clothes get.
Hard water, or water that contains mineral salts such as calcium and magnesium ions, limits your laundry detergent's ability to get sudsy, whisk dirt from your clothes, and send it down the drain with the wash water.
The iron may come from your water supply, or it may come from rusting pipes or water heaters. And fabrics can stain with even minute concentrations of iron in the wash water.

If iron in water is the problem, substitute oxygen bleach for chlorine bleach. It doesn't react with iron to cause staining.
If used consistently, oxygen bleach is effective in maintaining overall whiteness of fabrics.
other ways to minimize iron's affects on your laundry:
Use adequate amounts of detergent and water as hot as recommended for the fabric. You may need to use more detergent if you have hard water. There's no set guide here, so you'll need to experiment to find what amount works best.
Use a water softener - often labeled water conditioner - at the beginning of the wash and rinse cycles.

Install a water softener system.
2. rust from leaky Pipes or an older Water Heater.
Have your washer checked by an appliance professional to rule out any less expensive problem - like a problematic drum.
Until you get this under control, use non-chlorine oxygen bleach in place of chlorine bleach to keep iron stains to a minimum or eliminate them entirely.
And if you're interested in reviving any cotton and cotton-blend garments, pick up some Oxalic acid (a mineral blight remover). It's the best stain remover for these stains.
---
more stories:
---
---
About the Author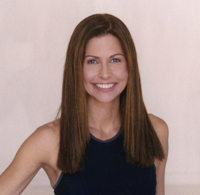 Tara Aronson
Tara Aronson is a native Californian. Having grown up in San Diego, she studied journalism and Spanish to pursue a career in newspaper writing. Tara, whose three children - Chris, Lyndsay, and Payne - are the light of her life, now lives and writes in Los Angeles. She also regularly appears on television news programs throughout the U.S.