4 kids study room ideas
A quiet space of their own will help kids get the homework load completed faster.
Let's face it: Now that the kids are back to school, everyone in the family is once again working at home. 
Kids doing homework. Parents paying bills, managing their finances, juggling their schedules.
Yes, it may be the grown-ups' home office, but you'll likely be sharing it and other surfaces throughout your home with your kids until next June because they have paperwork, too.
Between the schoolwork tsunami and the other stuff they bring home - the contagious and antibiotic-requiring kind - fall is a whirlwind of paper clutter and germs galore.
study room ideas for organizing and cleaning.
This annual rite of passage requires a seasoned cleaning and organizing taskmaster.
Good thing we are up for the job, right? Armed with simple cleaning and organizing tools - think a bottle of rubbing alcohol, several rolls of paper towels, a multi-tasking cleaning caddy or three - and we're off to make the grade teaching our kids to buff, divide, conquer and clean their way through the year ahead.
These 4 kids study room ideas can help you create a homework station and keep it clean with age-appropriate help from the kids.
1. file it.
Set up a file system for each academic subject. Per child. You'll need to set aside a file cabinet or box for each child's use. If you're sharing homework spaces with your kids, this is the perfect time to bring home those cute home office portables you see inn home decor mags. The rattan lidded file box. The everything basket.
2. outfit it.
Deck the desk with essential school supplies.
Deck the desk with essential homework tools.
These will vary by your child's age, grade, and the subjects he's studying this school year.
But the basics include pens, pencils, paper, erasers, tape, stapler, and probably a hole punch.
3. hunt and gather it.
Gather creative supplies - in an alternative location. Although younger kids don't do much homework per se, they do do artwork.
For them, and for the occasional creative endeavors of older kids, a secondary homework center in the kitchen is often best suited to cleaning up messes of the colorful, busy variety. I use a cleaning-supply caddy as a portable home for coloring books, paper, markers, crayons, and zip-close clear plastic cases for stickers and pipe cleaners.
In addition, for its more traditional use, I keep a roll of paper towels and a spray bottle of water (with a sprits of hand dishwashing liquid) to wipe up life's smaller spills.
4. clean it.
Create a cleaning 101 caddy for desk surfaces and computers; stock with baby wipes, Q-tips (for between the keyboard keys), rubbing alcohol, and paper towels. Drips, smudges, and dirt on desktops are ubiquitous in any homework central where gradeschoolers reside.
Here's a simple solution to the Hansel and Gretel syndrome: Park a roll of paper towels and a travel-size pack of baby wipes countersued. This does double-duty: It serves as a reminder for kids to clean up, plus it provides a quick and easy way to do so. Now, post-study session or art activity, surface wipe downs are a snap even if you can't reach the sink for the sponge. Baby wipe clean; dry surface with a paper towel. Surface crumbs stick to the wipe's damp surface, and the wipe is tossed after use, as is the paper towel, making it easy for even kindergartners to master.
study room ideas for kids chores by age.
Very likely, your office functions 75 percent for you and only 25 percent for your kids. Still, they should pitch in to help clean - you help them with their rooms, I'll bet.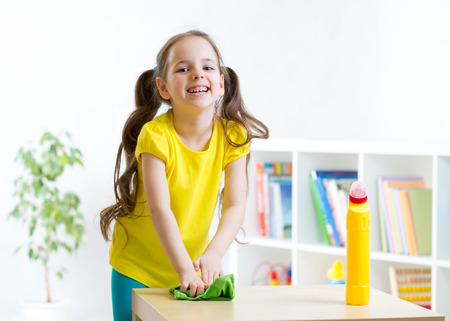 Get the kids to pitch in with cleaning the home office.
Here's a guide to which chores kids can do at what ages.
Once a child reaches a certain skill or age level, he can generally do the chores for his age group and those for the age groups below.
Of course, some of these chores need to be done each day, others each week, and still others once a month or less frequently. Use your best judgment for what gets done when.
ages 2 and under:
Put toys in bins or drawers
ages 3 to 5:
Dust low furniture
Vacuum, with help depending on the machine's height and weight
Wash or spot-clean baseboards, walls, and ceiling
ages 6 to 9:
Empty and wipe-clean wastebaskets using disinfecting wipes
Shake or vacuum area rugs
Dust furniture and shelves
Wipe smudges from walls and doors
ages 10 to 13:
Clean telephones, computer, and TV screens
Vacuum floors and carpets
Disinfect light switches and doorknobs
Vacuum furniture
Clean windows
Clean blinds
Wash screens and mgniblinds
Polish wood furniture
ages 14 to 17:
Organize closet
Dust the ceiling fans
Clean ceiling light fixtures, light fixtures, and lamps
Dust and vacuum corners and crevices from high point to low
Vacuum floors and carpet and move furniture to clean underneath
Vacuum drapes.
---
Related Pages
---
---
About the Author


Tara Aronson is a native Californian. Having grown up in San Diego, she studied journalism and Spanish to pursue a career in newspaper writing. Tara, whose three children - Chris, Lyndsay, and Payne - are the light of her life, now lives and writes in Los Angeles. She also regularly appears on television news programs throughout the U.S.