12 toy storage solutions
Oh, toys. Many toys. Many big toys. The most effective toy storage solutions include dividing and labeling everything.
Since most preschoolers can't read, these won't be your file-folder labels.
Instead, use picture labels of socks, shorts, shirts, and dinosaurs help your preschooler know where things go.
Color or tape pictures on every box, bin, or bag of the items that go inside.
easy toy storage solutions for big and bulky playtime favorites.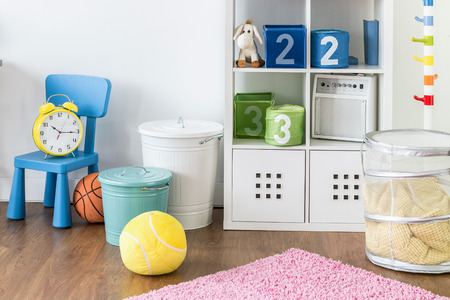 Create a play area in one corner where it's okay to leave big toys out.
Here are some of my favorite kids storage solutions to stash and display bulky and hard-to-hide playtime favorites:

  1  Buy storage bins for games and toys, such as plastic tubs that tuck under the bed, roller drawers and cubbies, small bookcases, and toy drawers.
2  Create a play area in

one corner where it's okay to leave big toys out. Confine it with a small area rug.
4  Stash stuffed toys on toy storage shelves or in hammocks.
5  Fill a bookcase that has deep shelves with brightly-colored storage baskets, which can in turn hold dozens of small toys.
---
---