weekly kids chores by age
Getting kids to help with cleaning isn't easy, especially in the beginning. Besides, how much help can you realistically expect from a child? The answer depends on the child's age.
Below I've listed examples of weekly kids chores that can generally be done by certain ages. However, you'll want to be there the first time your child tackles a new task, regardless of age.
Here is the house cleaning schedule I like to get done once each week. (Because these are a bit harder, I've exempted the 2-and-under crowd.)

weekly kids chores for ages 3 to 5: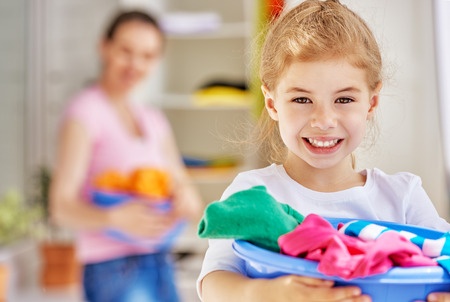 Kids age 3 and above can take clean clothes back to their rooms.
Remove clothes from dryer
Take clean, folded clothes to her room
Help prepare paper for recycling
house chores for ages 6 to 9:
Previous chores, plus:
Bring groceries in from the car
Children age 6 to 9 can sweep floors.
Shake area rugs, depending on size
Empty and wipe wastebaskets clean, using disinfecting wipes
Prepare recyclables for pick up
Take hampers to laundry room

Fold simple laundry items
Scoop and clean out thelitter box
Dust furniture and shelves
Vacuum out the car, with help, depending on the machine height and weight
weekly chores for ages 10 to 13:
Disinfect kitchen and bathroom counter tops
Surface clean the refrigerator
Sort, wash and fold laundry
Put out fresh towels and soap

Wipe chrome fixtures and mirrors clean and polish them
Mop floors and dry- or damp-mop wood floors
Disinfect light switches and doorknobs
Take trash and recycling containers to the curb
Clean fish/reptile aquarium
weekly house chores for ages 14 to 17:
Related Stories:
---
---