Gearing Up to go back to school 
The arrival of August means one thing for parents: It's time to start getting our summer slackers geared up for back to school.
Just when you've got summer's rule-free days figured out, here comes the rigid class and homework schedules that mark the new school year.

No problem, right? You're the parent, and you've got a handle on things. 
And if you don't (or don't just yet) these tips for going back to school will help you get it all done in the days ahead.
Schedule a Back to School Clothes Inspection
Put on the no-nonsense drill sergeant's hat for this school year wardrobe makeover. 

Check sizes on school clothes and shop for replacements at least a week before school begins.
With your son or daughter's assistance, throw out or give away everything that's too grungy or small to wear to school again this school year.

Make a list of what you'll need when you go shopping in the days ahead (a new sweater, pair of pants) based on what's heading out the door.

If school uniforms are a part of the program, this is an excellent time to start ordering new sweatshirts or sweaters and the like.

Consider devoting a couple of drawers and part of the closet to school clothes - especially if your kids wear uniforms.
This way, your student will know the night before whether he or she has something appropriate to wear the next day with a single glance before bed.

Inventory what you have, and make a shopping list for the rest.
Be sure to take advantage of end-of-season and Labor Day sales, or shop for school supplies online.
Clean Out Kids' Bathrooms of Last Semester's Grooming Remnants
Help the kids clean out their bathrooms of last semester's hair gels and stretched-out scrunchies.

Make sure your son or daughter has everything needed to streamline morning grooming for the new school year.
This is especially important if you've got teens in high school.
If you have a couple of kids with a shared family bathroom, keep it simple and avoid the "It's her/his mess!" argument before voices (and tempers) rise.
Get each child a different color
handled bathroom tote
, inside which he or she can stash all his or her grooming supplies. Then just pick up and go! (To the bathroom for tooth brushing and other pre-school hygiene essentials, that is.)
Create a Homework Place for Each Child
Create a study area in your home for each child.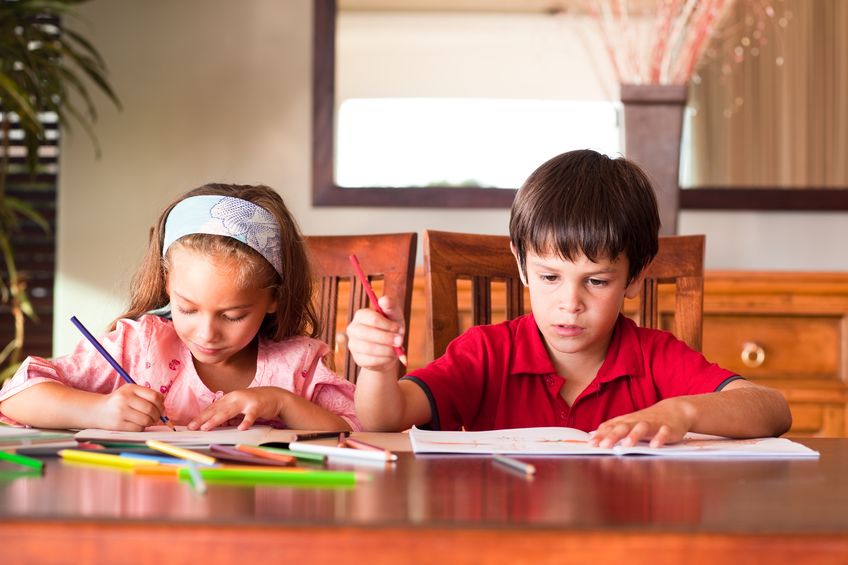 Create a study area in your home for each child.
Choose a place where the kids can work in comfort, and without distraction.

Your high school student will probably prefer the privacy of her room.
But for younger kids, a place at the kitchen table may be just enough for them to get the job done - and under your supervision.

Stock nearby drawers or cabinets with school supplies. If you already have a homework area in place, now's a good time to go out with the old - and in with the new.
Set up 'in' and 'out' boxes for school papers. Kids unload backpacks and drop off papers to be checked, signed, etc., in the 'in' box. You leave signed documents, money, permission slips in the 'out' box.
Organize an Entryway Backpack Zone
Create a backpack drop zone near the entry door.
They're going to drop those backpacks the minute they're inside anyway, so why not be prepared with a place actually to catch them?
It can be anything that fits the space and your family's style - an entryway cubby bench, sturdy wall hooks, or a coat rack - even a spot on the floor.
But make sure you designate an area somewhere, or you'll be tripping over backpacks for the next nine months.
Plan a Morning to Go Shopping for School Supplies
Make a school shopping checklist of everything the kids need from clothes to classroom supplies to lunch boxes.
Go together to the mall that's got it all. Your high school student shouldn't need too much coaxing in this regard.
And anything that's not on the school list, they pay for. Period. Otherwise, it's like Christmas in August.
Set rules before you enter that cavernous place so that you can keep whining to a minimum.
Launder  School Clothes and Uniforms
Launder up: Make sure clothes are clean and hemmed or repaired if needed. And, finally, now's the time to firm up carpools to school and after-school activities.
---
---