Bathroom Design Ideas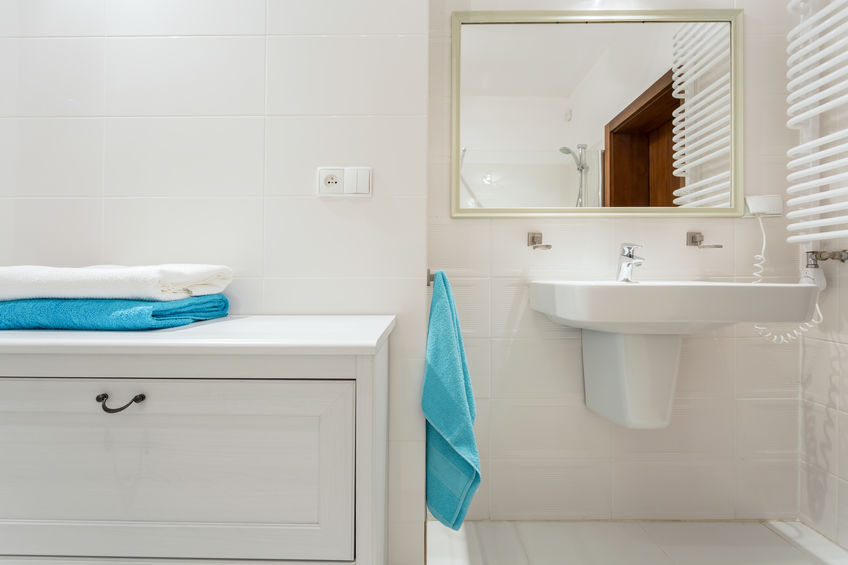 When it comes to bathroom design ideas and implementation, less is definitely more. The busy bathroom is the place to take advantage of the many tools and gadgets designed to organize your home's tight spaces. 
By design, most bathrooms leave little room for major improvement in terms of storage. 
Still, there are plenty of little things you can do to make the most of these cramped quarters. Because space is at such a premium, bathroom design must be functional as well as attractive. These decor ideas can help you get rid of the extraneous.
Bathroom Design Ideas

for Spiffing Up Storage
If the bathroom is without windows, these design ideas can brighten things up: add mirrors to the walls and choose bright, cheery colors for the bath and hand towels to give the room an airier, more spacious feel.

No matter how luxurious your bathroom is, the under-the-sink cabinet and medicine chest probably don't offer enough storage space.
Make the most of every inch of powder room space with these bathroom design ideas. They can dramatically increase your bathroom's storage power:
Use a wicker or wrought-iron wine rack to store rolled washcloths and towels.

This is not only a way to put extra storage and spare towels at the ready, but rolled towels can also provide a colorful accent, especially in a child's bathroom. Coordinate the towels to your decor.



Add over- and above-toilet shelving. Put wooden shelves along one wall or buy over-the-commode unit shelves. Here you can place those little knickknacks you can't live without and a small clock to keep you and the kids on schedule in the morning.
Near-sink shelving. If you're really short on space or have a small bathroom, single shelves hung near the sink provide perfect resting spots for soap, toothbrushes, and other daily essentials.
Towel bars with built-in shelving over the top.

You can hang used towels on the bar and stack new replacements on shelves for easy use. Or forgo the traditional towel bars all together in favor of antique or whimsical drawer pulls. Connect them to the wall with screws. Two or three together give a collected look. Hang a towel through each of the pulls for a finished look.



Wicker storage units are an excellent choice for baths because they withstand humidity well.

And most pieces come with drawers for more bathroom0stuff storage for you and the kids.



Even antiques can add storage to bathrooms. Need to recycle a few pieces from the other rooms in your home? An antique armoire, cupboard, chest, or table gives a bathroom more space as well as a delightfully elegant touch. 
Bathroom Design Ideas for a Brighter Space
Control countertop chaos by corralling personal hygiene items into containers, baskets, or boxes. Nothing makes a small bathroom seem smaller than having items spilling from every surface.

Remove that little throw rug on the bathroom floor to give an illusion of more space in a small bathroom. And strip the commode of its furry cover to keep it from becoming the room's focal point. Why dress up the one fixture to which you least want to call attention?

To make the powder room appear less utilitarian, bring in a wooden chest or a few stacking wicker or rattan boxes to add character as well as storage space.
If you have a folding screen languishing in a closet somewhere, place it between the sink and toilet to add a bit of style along with privacy.
Final bathroom design ideas: if you have exposed pipes in the bathroom, paint them the same color as the walls, or paint on a faux finish in complementary colors. Since you can't get rid of the pipes, make the most of them!