bathroom organization tips
Because the biggest challenge of the bathroom is that a lot of people need to share it and it's a small space, keeping it organized goes a long way toward keeping it clean. 
Add a kid or three, and things can get downright messy.

To conquer the clutter and master bathroom organization, start by dividing this tiny room into activity centers  - the toilet area, the dressing area, and storage areas - and tackle each in turn.
Taming the Toilet Area
Bathroom organization here is pretty straightforward - there's not much to it.

Keep extra rolls of toilet paper in a woven basket.
The toilet itself being fixed in place, you don't have much to find a home for here.
Bathroom storage ideas here: Keep extra rolls of toilet paper next to the toilet.
I keep extra rolls of toilet paper  in a woven basket stashed between the wall and the porcelain potty so hands in need of washing don't go wandering and contaminating cabinets beneath the sink and other surfaces.
This is also an excellent place to keep a bowl or basket of sanitary supplies or individually wrapped hand wipes. Station a magazine or book rack near the potty to keep big and little hands occupied.
Bathroom Organization Ideas for the Dressing Area
Since we not only bathe and pamper in the bathroom but often dress there as well, it makes sense to carve out an area for clothing and make a hamper part of the decor.

This is an especially good idea for kids' baths: It's the rare child indeed who needn't be reminded to deposit his peeled-off dirty duds into the dirty clothes hamper.
Skip a nagging step by placing a small hamper near the tub or shower so kids taking off clothes can bypass the floor for the basket.

Clothing hooks are a good investment for both grownups' and kids' bathrooms. If you've ever set the sheer top you were planning to wear on a wet counter (or worse, a dirty one), you know why.
A chair or stool is an excellent accessory as well. It creates a relaxing nook on which to sit to put on socks or apply makeup.
And it's a great place for kids to sit while doing their hair, or having Mom or Dad do it for them. 
Spiffing Up Bathroom Storage Areas
No matter how luxurious your bathroom is, the under-the-sink cabinet and medicine chest probably don't offer enough bathroom storage space. These bathroom storage ideas can make the most of every inch of bathroom space.
They can dramatically increase your bathroom's storage power.

Use a wicker or wrought-iron wine rack to store rolled washcloths and towels. This is not only a way to put extra storage and spare towels at the ready, but rolled towels can also provide a colorful accent, especially in a child's bathroom. Coordinate the towels to your decor.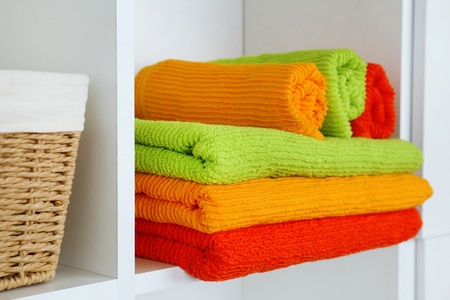 Put wooden shelves along one wall to organize and store fresh towels.
Add over- and above-toilet shelving. Put wooden shelves along one wall or buy an over-the-commode unit with shelves. Here you can place those little knickknacks you can't live without and a small clock to keep you and the kids on schedule in the morning.
Near-sink shelving.

If you're short on space, single shelves hung near the sink, provide perfect resting spots for soap, toothbrushes, and other daily essentials.
Wicker storage units are an excellent choice for baths because they withstand humidity well. And most pieces come with drawers for more bathroom-stuff storage for you and the kids. 

Even antiques can add storage to bathrooms.

Need to recycle a few pieces from the other rooms in your home? An antique armoire, cupboard, chest, or table gives a bathroom more space as well as a delightfully elegant touch.



Organization Ideas for the Vanity Cabinet
You'll be amazed at what you'll find in your medicine cabinet. (And maybe a bit scared, too.) Give thought to what you store here. These organization ideas can help.
Try to reserve that precious, accessible medicine-cabinet space for items you use most frequently, not the Pepto-Bismol you only take on New Year's Day.
Otherwise, you're wasting your most available storage space. You'll be surprised at the number of items you can store elsewhere. 

As you're looking at each item in your cabinet, check the labels carefully. Many of us treat medications much too casually. Some medicine labels specify storage in a cool, dark place, not the bathroom, due to its inherent humidity. Light, heat, or humidity may damage medications.
Humid bathrooms are not the ticket for these. Consider placing these medicines in a secure drawer the kids can't reach in your bedroom closet, or on a high shelf in a hall closet. 
Also, as you're going through the medicine cabinet, look carefully at expiration dates. Toss what's expired or no longer used. Expired medicines and vitamins lose their potency. (Ditto for sunscreens, by the way.) Discard medications where children cannot find them.
Do not toss them casually into the bathroom wastebasket. Flush them down the toilet or put them at the bottom of the trash can when you take it outside on garbage pickup day.
Store medications in their original containers. Don't repackage them as you would food. It's essential that you have the medication's original label so you can check dosages, expiration dates, and other safety information.
And, voila! You now have more bathroom space for the things you use daily!

---
---