bathroom organizing ideas
Because the biggest challenge of the bathroom is that a lot of people need to share it and it's a small space, bathroom organization goes a long way toward keeping it clean.

By design, most bathrooms leave little room for significant improvement in terms of storage.

Still, there are plenty of little things you can do to make the most of these cramped quarters. 

These bathroom organizing tips divide the bathroom into activity centers - the medicine cabinet, the sink area, the toilet area, the dressing area, and storage areas - and conquers each in turn.
Bathroom Organizing: Getting Started
Start the bathroom organizing process by cleaning out the one major area in the bathroom that was designed specifically for toiletry storage - the medicine cabinet.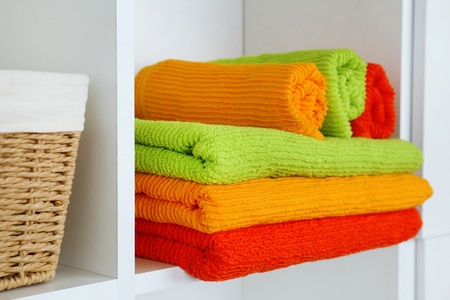 Keeping the bathroom organized goes a long way toward keeping it clean.
You'll be amazed at what you'll find here. (And maybe a bit scared, too.) Give thought to what you store here.

Try to reserve that precious, accessible bathroom storage space for items you use most frequently, not the Pepto-Bismol you only take on New Year's Day.
Otherwise, you're wasting your most available bathroom storage space. You'll be surprised at the number of items you can store elsewhere.
As you're looking at each item in the cabinet, check labels carefully. 

Many of us treat medications much too casually. Some medicine labels specify storage in a cool dark place, not the bathroom, due to its inherent humidity.
Light, heat, or humidity may damage medications. Humid bathrooms are not the ticket for these.

Consider placing these medicines in a secure drawer the kids can't reach in your bedroom closet, or on a high shelf in a hall closet.

Toss what's expired or no longer used. Expired medicines and vitamins lose their potency. (Ditto for sunscreens, by the way,) Discard medication where children cannot find them. 
Besides creating more bathroom storage space, clearing out the cabinet will minimize health risks, as bacteria and fungi can contaminate lotions and cosmetics over time. (Find out how long makeup lasts.)
Bathroom Organization Ideas for Sink Space 
If you have more than one kid, you know that bathroom organization and sharing space can be challenging.
Siblings sharing anything, let alone a small space like the bathroom, can easily lead to World War III if you don't have a battle plan for keeping each kid's stuff separate.
So you'll have an extra step here, creating different bathroom storage areas for each kid. Here are a few organization ideas to keep the peace.
Divide and conquer. Start by dividing and assigning separate areas: his sink, her sink, his drawers, her drawers, etc. Then grab the troops and have them lend a hand in organizing their areas,
Plastic caddies, in different vibrant colors, are the perfect solution if drawer, sink, or shelf space is at a premium.
Color their world. Organization ideas include using plastic caddies, in different vibrant colors, are the perfect solution if drawer, sink, or shelf space is at a premium.
Have each child choose a color and place personal shampoo and grooming supplies inside the caddy. You can keep the caddies in another area out of sight, perhaps in each kid's room.
Keep the peace by assigning a color for everything from toothbrushes to towels for each family member.
Not only will this reduce sibling squabbles, but it will also help solve the mystery of who "forgot" to hang up his towel.
Create kids' kits. Divide each kid's toiletries in her own toiletry bag. Include toothpaste, floss, cleansers, contact lens and glasses, and manicure supplies,
Start off sparkling. Once you've tossed what you can and organized what's left, clean up goopy cough syrup or other spills on shelves and give your counter and cabinet a healthy new appearance. Wipe down shelves, drawers, and counters before you return items to their new homes in clutter-busting groups, containers, or bags.
Taming the Toilet Area
The toilet area is pretty easy to organize - there's not much to it. The toilet itself being fixed in place, you don't have much to find a home for here. 
Keep extra rolls of toilet paper next to the toilet. I keep mine in a covered woven basket stashed between the wall and the porcelain potty, so hands in need of washing don't go wandering and contaminate cabinets beneath the sink and other surfaces.

This is also an excellent place to keep a bowl or basket of sanitary supplies or individually wrapped hand wipes. Station a magazine or book rack near the potty to keep big and little hands occupied.

Decking Out The Dressing Area
Since we not only bathe and pamper in the bathroom but often dress there as well, it makes sense to organize your bathroom by carving out an area for clothing and making a hamper part of the decor.
This is an especially good organization idea for kids' baths: It's the rare child indeed who needn't be reminded to deposit his peeled-off dirty duds into the dirty clothes hamper.
Skip a nagging step by placing a small hamper near the tub or shower so kids taking off clothes can bypass the floor for the hamper.
Clothing hooks are a good investment for both grownups' and kids' bathrooms. If you've ever set the sheer top you were planning to wear on a wet counter (or worse, a dirty one), you know why.
A chair or stool is an excellent accessory as well. It creates a relaxing nook on which to sit to put on socks or apply makeup. And it's a great place for kids to sit while doing their hair, or having Mom do it for them.

Spiffing Up Storage Areas
No matter how luxurious your bathroom is, the under-the-sink cabinet probably doesnt offer enough storage space.
Organize your bathroom with one or more of these accessories. They can dramatically increase your bathroom's storage power. 
Use a wicker or wrought-iron wine rack to store rolled washcloths and towels. This is not only a way to put extra storage and spare towels at the ready, but rolled towels can also provide a colorful accent, especially in a child's bathroom. Coordinate the towels to your decor.



Near-sink shelving. If you're really short on space, single shelves hung near the sink provide perfect resting spots for soap, toothbrushes, and other daily essentials.
Towel bars with built-in shelving over the top. You can hang used towels on the bar and stack fresh replacements on the shelves for easy use. Or forgo the traditional towel bars altogether in favor of antique or whimsical drawer pulls. You'll find these at flea markets or garage sales for a song. Connect them to the wall with screws. Two or three together give a collected look. Hang a towel through each of the pulls for a finished look.
Even antiques can add storage to bathrooms. Need to recycle a few pieces from the other rooms in your home? An antique armoire, cupboard, chest, or table gives a bathroom more space as well as a delightfully elegant touch.
---
---