caveats for hiring
a  carpet cleaning service
Carpet stains happen. Mud is tracked in. Pets have accidents. Liquids spill. Shoes track in who-knows-what.

If the inevitable drips and drops of family have left your rugs and carpet looking a bit worse for wear, it may be time for professional carpet cleaning.

There are plenty of do-it-yourself cleaning methods on the market, of course.
You can buy or rent a steam cleaning machine, or go after the shadows and dark spots manually with a carpet cleaning powder, foam shampoo, or liquid spray cleaner. While this is the least expensive option, it will require a bit of elbow grease and the moving of furniture as part of the cleaning procress.
If you're not the furniture-shifting and machine-renting type, make it easy on yourself. Hiring a carpet cleaning service to do the dirty work may be the safest, fastest, and easiest option. 

Do Your Homework Before Hiring a Carpet Cleaning Service
Tread carefully into the professional carpet cleaning arena.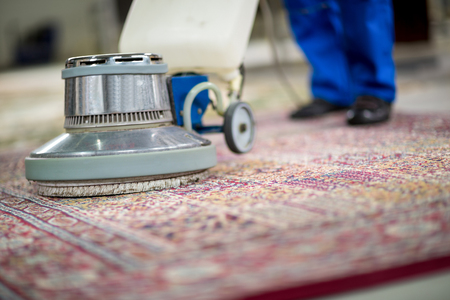 Ask the right questions of a potential carpet cleaning service and do the research to save yourself future headaches.
All is not always as it seems, and choosing the wrong carpet cleaners may leave you with more than just family-weary floor coverings. 

It's essential to ask the right questions of a potential carpet cleaning service and do the research to save yourself from future headaches. 

Carpet cleaners have been springing up like weeds after a rain in the last few years.
That's due, in part, to the proliferation of equipment that may be just one step above home rental cleaning machines.
Beware the Lure of Too-Good-to-be-True Advertised Prices
For a small capital investment and a large advertising budget relying on misleading claims like "one room, $20," anyone can say he or she is a carpet cleaner.
These carpet cleaners are often under-insured in the case of damage or worse - not insured at all.
Be cautious of any company that appears on your doorstep uninvited or contacts you over the phone.
Also, be wary of any orofessional carpet cleaners that advertise a cleaning price by the room. Rooms are different sizes, and the charge should be based on the amount of carpet cleaned.
Also, some profesional carpet cleaners advertise the use of brand name cleaning products and chemicals, although this does not necessarily mean the company is in any way affiliated with those products or companies.
Perhaps the best way to find a professional carpet cleaner is to ask family and friends for references. A strong endorsement can provide great piece of mind. 

Then visit the Better Business Bureau in your state online to check on the company's standing and find out if any complaints have been lodged against the company.
If so, try to find out the number and nature of the allegations.
Get Estimates from Several Cleaning Services Before You Sign on the Dotted Line
Once you have identified two or three professional carpet cleanerds, have a representative come to your home and determine the type of cleaning process that is most suitable, as well as inspect your carpet or rugs for problem spots or extremely soiled areas.
Before you sign on the dotted line, ask the right questions, and make sure everything is covered before the cleaning process  begins:
How long has the company been in business? The answer will speak volumes about its reputation and experience.
What formal training is required for the company's management and cleaning technicians? A reputable firm should require that its employees receive training certification from recognized national companies or organizations and participate in continuing education programs. 
What does a basic service include and how much are you charging per square foot? Knowing a company's square foot price is key in determining which reputable company offers the best deal. (Note: Pre-spotting and furniture moving should be included in the square-foot price.)

What type of cleaning method will be used? Discuss with the professional the best cleaning method for your carpet or area rug. There are a variety of cleaning methods to suit different carpet and rug types. Be sure to contact the carpet manufacturer before allowing additional treatments, such as reapplying stain guard products or anti-static treatment, to prevent voiding your warranty. 
Are you insured in case of loss or damage? Request proof of insurance to protect your investment before allowing work to begin in your home or having rug cleaning items taken off-site. Damage - such as color transfer - is much more common than many of us would believe. 

What if I'm not satisfied? A reputable company will offer some guarantee - usually money back if the company is unable to clean the carpet or area rug to your satisfaction.
Once you've settled on a carpet cleaning company, move your own delicate, breakable objects before the cleaners arrive. But expect the company to move your furniture - at no extra charge.
When it comes time to pay, make sure the bill agrees with your written estimate. And always pay by check or credit card so you can stop payment if the work is unsatisfactory or if you believe you have been overcharged. 
---
---