home office cleaning chores
for kids by age
Here's a guide to which home office cleaning chores kids can do at what ages.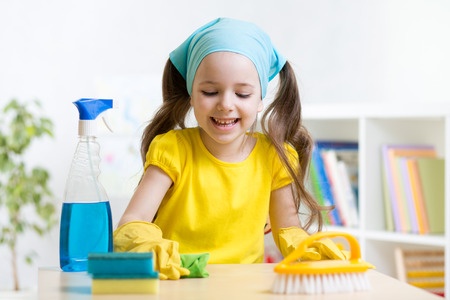 Kids age 3 to 5 can help clean low furniture surfaces in the home office.
Once a child reaches a certain skill or age level, he can generally do the chores for his age group and those for the age groups below.

Of course, some of these chores need to be done each day, others once a week, and still others once a month or even less frequently.
Use your best judgment for what gets done when.
This list of appropriate chores for kids by age can help get you started.
Cleaning Chores for Children Ages 2 and Under:
Chores for Kids Ages 3 to 5:
Return books to bookshelves 
Put toys and games (and all their pieces) in the proper boxes or bins
Chores for Kids Ages 6 to 9:
Take out trash and recycling
Dust furniture and shelves
Chores for Kids Ages 10 to 13:
Clean telephones, computer and TV screens, video game controllers, and remote controls
Chores for Kids Ages 14 to 17:
Dust and vacuum corners and crevices from high point to low
Deep-clean carpet and upholstery (Teens can make the call to the carpet cleaner for you.)
Vacuum floors and carpet and move furniture to clean underneath
Share Your Ideas and Thoughts on the Topic Here:
---
---