cleaning kitchen floors:
Products & tools that work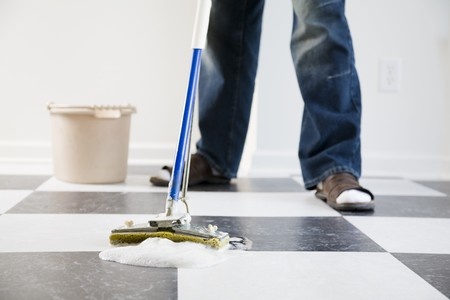 For sparkling clean floors, choose the right products and tools for your flooring materials.
Kitchen floors are a potluck of dirt, grunge, and grime.
Cleaning kitchen floors, and keeping today's fabulous flooring materials - linoleum, vinyl, and hardwood - sparkling like new requires a special egimen tailored to the surface type. 
Using the right cleaners for the job is critical in keeping floors shining safely.
But which cleaning products and tools are right for your flooring surface?
These products and tools for cleaning kitchen floors can help.
Cleaning Kitchen Floors: Linoleum
Keeping linoleum really clean requires regular damp mopping (use very little water, which can make the surface brittle) or dry dust-mopping to rid the surface of grit and dust before it's ground in.
To keep linoleum shiny and lustrous, each year apply a wax such as carnauba paste wax to seal and protect the surface. For heavy wear areas, you may need to wax once a month.
These tools and products are up for the dirty jobs on linoleum floors:
Cleaning Products & Tools for Vinyl
Vinyl floors require regular (often daily, depending on how much use they get) sweeping and damp mopping with water for general clean-ups. But for those grimy jobs, a specialty cleaner will provide more uniform cleaning and drying:
Cleaning Tools & Products for Hardwood Floors
Whether yours are oak, maple, ash, or beech, cleaning them is as safe and simple as it gets: Once-a-week cleaning with a broom, vacuum, or dust mop is all most hardwood floors require. If your floors get a lot of use and they don't have a urethane finish, damp-mop weekly with a neutral-pH wood cleaner: