a clutter free living room: 4 Tips
A clutter free living room may seem like a challenge. The living room is, after all, home to some of the biggest, bulkiest objects you own. 
A couch and chairs. A coffee table. A flat-screen television. Audio equipment. Bookcases, end tables, and side table.
And then there are the smaller treasurers: collections, books, artwork, treasured mementos, photographs and photo albums, decorative lamps, vases, dried flowers, and candleholders.
All these items need is a little streamlining to bring order to this multi-functional room.
  1.  Making Order Out of Living Room Chaos: Make it Clutter  Free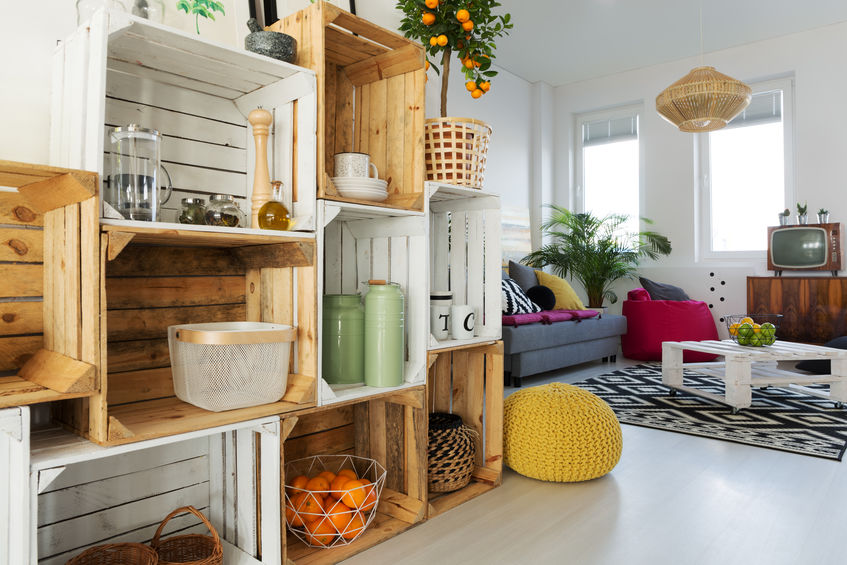 Making order out of apparent chaos can involve little more than moving a few things around.
With so many different objects competing for space, a living room can start looking like a crowded curio shop. But making order out of apparent chaos isn't as hard as it seems.
It can involve little more than moving a few things around, adding a shelf or two, perhaps investing in an inexpensive wall storage system - and, above all, using what you have.
The main goal here is to create a room in which family members and guests feel comfortable. 
  2. Rearrange the Living Room to Remove Clutter and Free Up Living Space
Start retooling this family hub by taking a good look around the room. Are your shelves too jam-packed to do justice to the photos, book collections, and family heirlooms that vie for space there?

If so, begin by stripping the shelves bare of all objects. After a good dusting, put things back in a balanced assortment of large and small items.

Place books you rarely read on the shelf nearest the floor and a grouping of smaller, lighter items on the next shelf up. Display items you'd like at center stage on chest-high shelves, and place the remaining items higher up, alternating between bulky pieces and delicate objects.
Look high and low for the objects that have strayed from other rooms and been haphazardly set atop the coffee table or end tables. Return them to their rightful homes, or move them into storage.
  3.  Arrange Living Room Furniture So That It Takes Center Stage
Next, if your couch, chairs, and other furnishings are flush again the wall, move them to the center of the room in seating clusters, or as a single grouping with items spaced 8 to 10 feet (2-3cm) apart.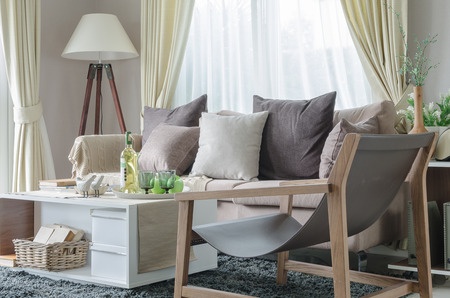 Position living room furniture close enough together to create intimate seating areas that encourage conversation.
This will create a more intimate seating area and, more important, it will free up a wall for new shelves or cabinets. Use the additional shelves to relieve clutter on existing shelves or to display some bigger items that have been visually lost elsewhere in the room. The ceiling is the limit.

Or consider placing a decorative table or small cabinet behind the sofa and using it to show off large framed pictures or other bulky items.
While you wouldn't want to cover every wall in your living room with shelves, more wall space does mean more storage possibilities. Consider the walls a display gallery for your treasured items.
Hang antique fireplace tools near the hearth, your flute from grade school amid a collection of music-inspired prints, or a child's framed drawing among family photos.
 4.  Living Room Storage Tips
Wall storage units can be a godsend. Consider hiding home office equipment inside an attractive storage unit instead of keeping it exposed on a four-legged table.
Some systems come with folding work tables and deep file drawers. A few even include a foldout bed for overnight guests.  Other large-scale storage possibilities include antique or wicker trunks, wooden storage chests, and benches with hinged seats and hollow compartments.
Store the small stuff in Shaker-style boxes, decorative bowls, colorful cookie jars, and wicker baskets. A clutter free living room is within your reach with just a little bit of retooling and a few creative additions where needed.
Share Your Ideas and Thoughts on the Topic Here:
---
---