disaster planning tips for families
Does your family have a disaster kit?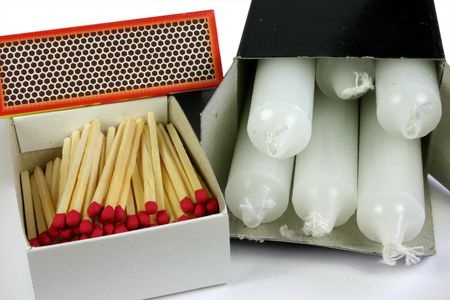 Candles and matches are an essential component of any disaster survival kit.
You owe it to your family and your peace of mind to plan for the worst.
There are a few basic things that people need in any emergency - from as drastic as earthquakes to as minor as an electrical outage.
The basic provisions for an emergency are food, water, and a first aid kit. The extras depend on your family situation. 
I keep two emergency kits: One in the house and one in a backpack in my car. If I break down in the snow on the way to a ski vacation in Lake Tahoe, I'm covered.
At home, I put my disaster kit in a huge heavy-duty trash can with a lid. I hope I'll never need it, but if I do, I'll be glad to have it.
Here are the essentials to include in your disaster planning kit.
Disaster Planning Essentials For Your Survival Kit
Drinking water: Put aside some water if nothing else. If your local water is contaminated or shut off, you'll need water not only to drink but for cooking and bathing. Store at least one gallon (4L) per person per day, for a minimum of three days. Refresh your water supply every six months. Water gets a little flat and tastes funny if stored too long.
Food: Your emergency food supply should include up on a week's worth of nonperishable, easy-to-prepare foods. Good bets include canned or powdered milk, canned goods, granola bars, and comfort foods such as candy or cookies. (You may be needing a little comfort.) Avoid salty foods because you'll need to conserve water.
First Aid Kit: You should have a first aid kit whether you have a disaster kit or not. Stock it with a first aid manual, bandages, adhesive tape, scissors, thermometer, latex gloves, sunscreen, aspirin, acetaminophen, antacid, anti diarrhea medicine, syrup of ipecac, and any prescription medications your family takes.

Basic Cleaning & Sanitation Supplies: You'll need liquid soap, toilet paper, antibacterial soap, disinfectant, bleach, garbage bags, and paper towels.
Several Changes of Clothing & Bedding: Pack at least one change of clothing for each family member, including: heavy duty boots or shoes, gloves, hats, and blankets or sleeping bags.
Important Family Documents: Keep these records in a waterproof, portable container: will, insurance policies, contracts, deeds, stocks and bonds certificates, passports, social security cards, immunization records, bank account numbers, credit card numbers and companies.
Extras: Round up a flashlight, a radio (with extra batteries), a can opener, a camp stove, aluminum foil, matches, a fire extinguisher, an extra set of keys, a little spare cash, extra eyeglasses, and books or games for the kids.
Readying Your Family Disaster Kit
Tape a "Don't Forget" list of last-minute items to take; such as an extra pair of glasses, important documents, and keepsakes.
If you smell gas after an emergency, turn off the gas at the main shutoff valve next to your gas meter.
Use a wrench to give the valve a quarter turn clockwise or counterclockwise; when the tang (the part you put the wrench on) is perpendicular to the pipe, the valve is closed.
Plan for the worst case scenario. In the best case scenario, all your disaster planning efforts will have been a complete waste of time.
Oh darn, we never had a disaster! Who could complain about that?
Share Your Ideas and Thoughts on the Topic Here:
---
---