Essential cleaning supplies & Tools
every home should have
Whether you're ready to dive-in for a fall, whole-house cleaning - or you just need to restock or upgrade your housekeeping kit - these are the essential cleaning supplies and tools you'll need to keep your home looking its best.
1.  Essential Cleaning Supplies for Floors
If you have hard flooring surfaces like wood, tile, and linoleum in your home, you will need a broom, dustpan, and mop to get them clean.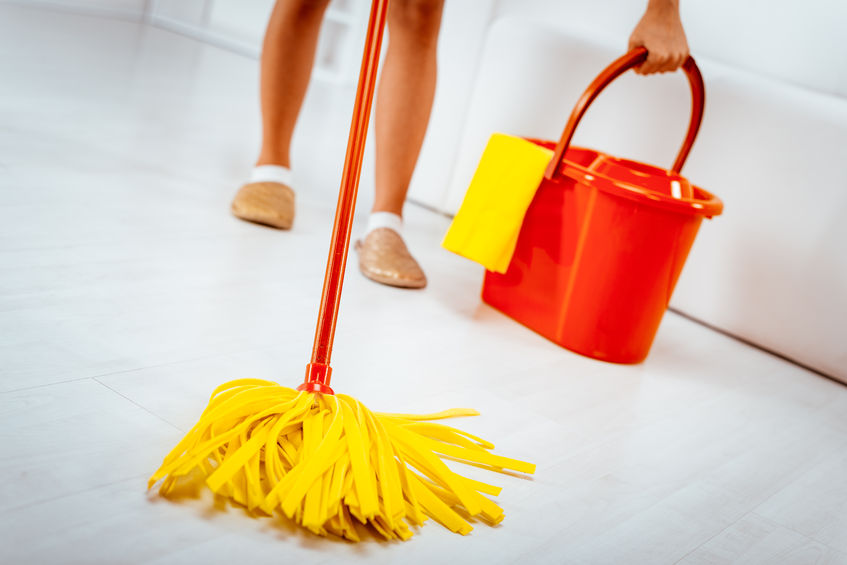 With the right tools, it's easier to get the dirty jobs done quicker.
The best picks here are
broom and dustpan duos
that keep these essentials neatly together, and either a
synthetic chamois mop,
or
double-sided microfiber mop
to safely and effectively clean hard surfaces.
You'll also need a vacuum. Whether it's a
RoboVac
, a
Dyson Animal + Allergy Complete
(a sturdy workhorse that's my personal favorite as we have two cats), you'll need one of these machines to keep floors clean and allergies at bay daily.
2. For Living Areas and Bedrooms
In these rooms and areas, you'll need a
a lint roller for delicate surfaces like pillows
, especially if you're like me and have pets.
You'll also need an
an expandable microfiber extendable duster
like this one from OXO, for those hard-to-reach ceiling fans and other high-up nooks and crannies in your home.
3. Essential Cleaning Supplies for the Kitchen
an abrasive side
to tackle tackle grimy kitchen surfaces.
But if you'd like to explore your alternative side, you can test out
sponge cloths
that bridge the gap between sponge and kitchen towel,
spaghetti sponges
- no soap required! - or
antimicrobial silicone sponges
that last almost forever.
I always keep a bunch of
white kitchen towels
on hand. It's easy to see when they're dirty, and they can be easily bleached and disinfected without getting ruined. An eco-friendly alternative is cut up old t-shirts.
Microfiber kitchen cloths
are another of the essential cleaning supplies not to be without - microfiber can often get surfaces clean on its own or with just a little water, and doesn't scratch or leave streaks behind (they're great for windows).
An
All Purpose Scrub Brush
is also essential in the kitchen for those times when a sponge or cloth isn't going to work. I love this one from OXO and it's only $6.
4. Essential Cleaning Supplies for the Bathroom
A dedicated
toilet brush with a caddy to hold it
safely and hygienically is a must for controlling the spread of germs and keeping your toilet clean. Another must have for the bathroom
grout brush.
. When tackling the grout on your floor and in your shower, use a grout brush (or other small brush with firm bristles).
Now that you have your essential cleaning supplies list, grab a coffee and head to the store. Fall cleaning will be ever-so-much easier (and more inspiring!) with all your new tools!