tips for family road trips
Family road trips can be a challenge for restless kids - not to mention road-weary adults.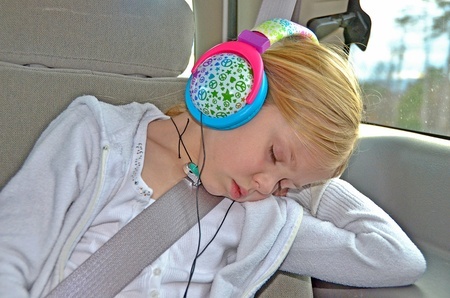 A portable music player and headphones can keep kids happily occupied - or help them sleep.
These tips for family road trips are designed to keep little ones happily occupied (and not killing each other) on short errands and long drives.

I pack activity kits for each of my children to ensure a good time is had by all when we're mobile.
The kids can then take the activity kits into restaurants, and even on "boring" visits with mom's friends and stay happily occupied.
Here are a few simple kit ideas to keep little hands busy when you're out on the road.
Create a Boredom Kit to Keep Younger Kids Busy on Family Road Trips
Suitable road kits for little kids include:
Aluminum foil. Do you know how much art kids can make from this stuff? Think rings, crowns, and necklaces.
Action figures, small dolls, or plastic animals. Bonus buy: A lot of them come in little kits designed to be portable. Choose these whenever possible. I picked up a clear vinyl-like backpack filled with toy soldiers for my 5-year-old recently. He takes them just about everywhere, including the grocery store.

Coloring books. And crayons or markers, of course.
Magnetic board games and wipe-clean games. These are really great choices because pieces can't get lost or bumped into oblivion.
Create Entertainment Kits to Keep Older  Kids Happily Engaged on the Road
Suitable road trip kits for big kids include: 
Books.

For the child who loves Harry Potter or any other book series, he or she will be happily occupied when you bring along her favorite reads.



If it's a long trip, consider buying each kid a new book, craft, or toy that will occupy him or her for a while. Let each kid bring one plastic box or backpack filled with personal stuff.
It's also a good idea to bring a pillow for each kid to encourage naps on the road.
---
---