patio furniture cleaning PRODucts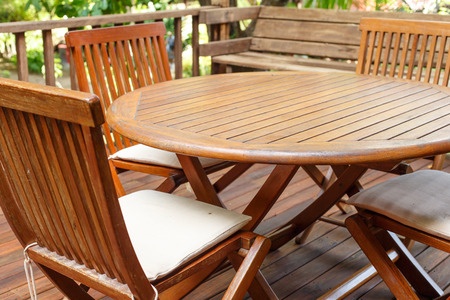 Regular patio furniture cleaning is essential to keeping it looking its best, season after season.
But with the various furniture materials out there - from vinyl, wood, and wrought iron to teak and beyond - sometime's it's hard to figure out how to safely clean each piece.
Keeping patio furniture clean can be a challenge. You wipe off the dirt and grime, your patio furniture dries, and streaks or worse appear. The same challenges arise on most outdoor pieces - you're battling Mother Nature here, after all!
Here are some dirty little secrets to mastering the art of patio furniture cleaning, and some of the best products and tools around to help you do just that!
Patio Furniture Cleaning: Cushions
Most cushions today have plastic covers and polyester fill and are designed to withstand the elements. Still, they could use some help if you'd like them to last for the long term (or at least a few seasons). Hose off spills immediately, and for deep cleaning, these products can help:
Cleaning Aluminum Patio Furniture
Wash aluminum patio furniture with mild liquid detergent to remove surface dirt and grime, rinse and dry. Coat with automotive wax every six months. These aluminum cleaners can help:
Teak Patio Furniture Cleaning
To clean outdoor teak furniture, use a mild soap solution and a soft brush; rinse thoroughly. Keep teak furniture in the sun because dampness will cause mildew. These teak cleaners can help keep your teak shipshape:
Cleaning Wicker Furniture
Wicker patio furniture only needs to be cleaned about once a year, unless you have spills. For light cleaning, wash with a solution of mild detergent and water. Rinse with a garden hose and towel dry. For deeper cleaning:
Cleaning Tabletops
Patio furniture tables are tough to clean flat. The trick to cleaning a patio table is to turn it on its side and hose it down first.