10 pool safety rules for kids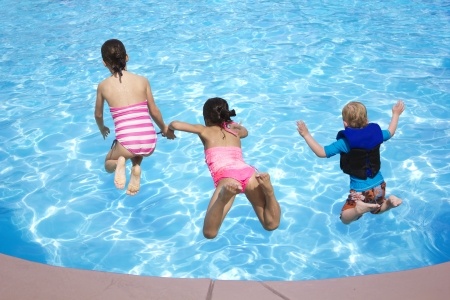 During the warmer months, the patio, deck or backyard becomes the place where the kids play from dawn to dusk, and parents hang out and relax - especially when there is a pool involved.
What a wonderful concept!
Since we're out there so much, we need to have a pool safety plan in place to keep the little swimmers safe.
These 10 pool safety rules for kids can help ensure everyone has fun in the sun - and in the water - safely.
  1   Don't Just Dive In
In fact, for basic water safety, don't dive in at all.
Backyard pools aren't deep enough to make this fun but dangerous water-entry safe at home. Instead, encourage kids to jump in feet first instead.
  2   No Glass Allowed Near the Pool Area
No glass allowed for the kiddies outside.
Wet hands, like wet feet, slip up every now and again. Broken glass and bare feet are a bad combination.
So limit glasses to grown-ups only, or ban them outside altogether.
  3   Use a Pool Safety Cover When Not in Use
Use a pool safety cover
when not in use. If you don't already have one, now is a great time to get one.
 4   Kids Under Age 14 Require Adult Supervision in the Water
Kids can swim or use the jacuzzi only when an adult is there to supervise. This is one rule you won't want to break.
  5   You Must Be At Least 6 Years Old to Go in the Jacuzzi
No infants or toddlers allowed in the jacuzzi or hot tub. The water's just too hot for them to go in safely.

  6   The Jacuzzi Temperature Should Be Below 104 Degrees F.
Keep the jacuzzi temperature at or below 104 degrees F for everyone's safety, regardless of age.
Consider getting a
floating pool and spa thermometer
to make it easy to confirm the water's fine before wading in.
  7   No One Dives Head-First
Slide down the pool slide feet-first only. It's a safety thing.
   8   Walk - Don't Run - In the Pool Area
No running or roughhousing around the pool and spa.
As grownups know, wet feet can easily slip when running, and the tile or concrete surrounding a pool and spa is less than forgiving.

  9  No Rolling Toys Allowed in the Pool Area
No rolling toys allowed near the pool.
The only kids to use them are young ones - those most prone to backyard pool accidents. Keep these two separate from one another.
  10   Don't Leave Without Saying Good-Bye
No exiting the yard without letting a parent know where you're going. And who you're going with. With these pool safety rules in place, everyone can enjoy the sun time safely - together.
---
---