6 small bathroom ideas for
organizing & storage
Most of us have small bathrooms. Because the biggest challenge of the bathroom is that a lot of people need to share it and it's a small space, keeping it all organized and neat goes a long way toward keeping it clean. 
By dividing the bathroom into activity centers and organizing each, we can make even the most compact bathroom beautifully functional.
These 6 ideas can help organize your bathroom and make it look more spacious in the process.
  1.  Small Bathroom Ideas for Salvaging the Sink Area
The counter space around the sink is precious real estate. And the space in the cabinet under the sink is limited, too. Most families have far too many potions and lotions here, and far too little space. Since most bathrooms don't have much storage room, you'll need to use what you have to maximum effect.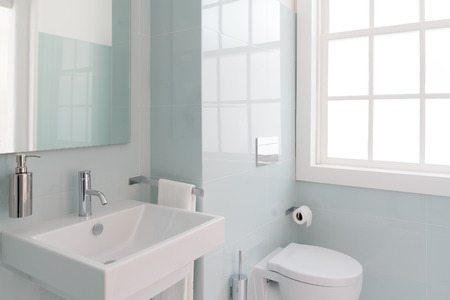 Let's start with small bathroom ideas for organizing the counter area around the sink. Look critically at what you have sitting here. If it isn't used often - several times a day - get ready to move it somewhere else.
Certainly, get rid of anything that's just decorative and serves no useful function for you or the kids. Keeping bathroom counter clutter to a minimum will help you and the kids maximize time spent here in the morning's mad dash.
Get rid of anything that doesn't truly belong on the counter. Then, get a few attractive containers to organize what's left, such as Q-Tips, cotton balls, spare change, and that day's jewelry. Keep those to a minimum, too.

One thing that does belong on your bathroom counter is soap. Supply the sink with a pump bottle of liquid soap that's easy (and fun!) for little hands to use. And liquid soap is much less messy than traditional bar soap. Now let's work on the cabinet under the sink, along with drawers if you're lucky enough to have them.
  2.  Small Bathroom Ideas for Drawers and Under-Sink Cabinets
Start by dividing, paring down what you and the kids don't really need, and organizing the rest so that you free up precious under sink and drawer space.
You'll probably want to do this when you're alone, or at least at night when the rest of the family is asleep. This job requires a bit of concentration to get the dirty job done right - and fast.
First, empty the contents of every drawer and cabinet in your bathroom. Toss what you can. (Do you really need to keep those six bottles of hair gel you tried and didn't like?)
Next, sort what's left into two piles or boxes: one for frequently used items and a second for seldom used items. Place the second box outside the bathroom door: You'll need to find a place to store these non-essentials later.
Under the sink (if you have a cabinet, that is) is the place for a space-saving plastic or metal drawer unit. These are sold in container stores in different heights and widths.  You may be able to fit two or three drawer units under your sink. They're a great place to stash:
This is also the space for that cumbersome blow dryer and cord, hairspray and styling gels, and extra bath soap, toilet paper, and tissue boxes.
  3.  Small Bathroom Ideas for Organizing Your Toiletries
Your vanity drawers are where you should stash daily jewelry and toiletries for easy reach as you're cleaning up for bed each night. Kids' stuff, too. 
Teach the kids to organize their daily-use items, such as jewelry, combs, brushes, toothpaste, and toothbrush, in the place that's easiest to reach and use. And provide them with places to stash stuff at night, too.
Drawer dividers are basic components of an organized bathroom, and they should be considered essential in both your bathroom and the kids'.
They keep things from being a jumble. You can get dividers for this purpose, or just use little cardboard jewelry gift boxes to keep like items together.
For the hair accessories drawer, for example, you could have one basket for combs and brushes, another for barrettes, a third for hair ties and elastic bands, a fourth for headbands, and a fifth for scrunchies.
If possible, keep toothpaste and braces supplies, hair supplies, and face medications in separate drawers.
Plan to keep brushes, mirrors, and other frequently used accessories in the top drawer for easy access. If there are no built-in drawers, no worries, the plastic drawer units will do in a pinch
 4.  Small Bathroom Ideas for Tidying the Tub and Shower Area
Bath essentials have a tendency to overrun a tub or showers, especially when women are involved. Add a kid or three and things can get really messy. 
The key to keeping Barbies from overrunning the tub and Mom's scented body scrubs, facial cleansers, shampoo, and conditioner from drowning the shower in stuff is to divide and conquer.

  5.  Taming the Toilet Area
The toilet area is pretty easy to organize - there's not much to it. If you have a potty chair for little ones, for cleanliness you'll want to keep the potty chair away from the big-person potty.

You don't want your little one grabbing onto the big potty while sitting down, getting up, or whiling away the time on the pot. And of course, you wouldn't want a big person tripping over the little potty and making a big mess if it should be full.
Keeping the two separate, on opposing walls, say, you'll find it easier to keep each cleaner.
Keep extra rolls of toilet paper next to the toilet. I keep mine in a covered woven basket stashed between the wall and the porcelain potty so hands in need of a washing don't go wandering and contaminate cabinets beneath the sink and other surfaces.
This is also a good place to keep a bowl or a basket of sanitary supplies or individually wrapped hand wipes. Station a magazine or book rack near the potty to keep big and little hands occupied.
  6.  Spiffing Up Storage Areas
No matter how luxurious your bathroom is, the under-the-sink cabinets and medicine chest probably don't offer enough storage space. Make the most of every inch of bathroom space with one or more of these accessories. They can dramatically increase your bathroom's storage power.
Use a wicker or wrought-iron wine rack to store rolled washcloths and towels. This not only a way to put extra storage and spare towels at the ready, but rolled towels can also provide a colorful accent, especially in a child's bathroom.
Add over- and above-toilet shelving. Put wooden shelves along one wall or buy an over-the-commode unit with shelves. Here you can place those little knickknacks you can't live without and a small clock to keep you and the kids on schedule in the morning.
Add near-sink shelving. If you're really short on space, single shelves hung near the sink provide perfect resting spots for soap, toothbrushes, and other daily essentials.

Add towel bars with built-in shelving over the top. You can hang used towels on the bar and stack fresh replacements on the shelves for easy use. 
Bring in wicker storage units. These are a good choice for baths because they withstand humidity well. And most pieces come with drawers for more bathroom-stuff storage for you and the kids. 
These small bathroom ideas are a starting place - customize them to make your bath an organized, functional place for you and the family.
---
---