Toppin Cordless Vaccum



I'm a bit of a clean freak. I like my home free from dirt, dust, and reminders of the four-legged residents inside as much as possible. Naturally, I was excited when my new Toppin cordless vacuum arrived right before Christmas.
My first impression on pulling the sleek silver and green stick vacuum from the box was - this looks cool! Using the quick start guide, I had my cool new tool assembled and charging next to my stick and hand vacuum in minutes.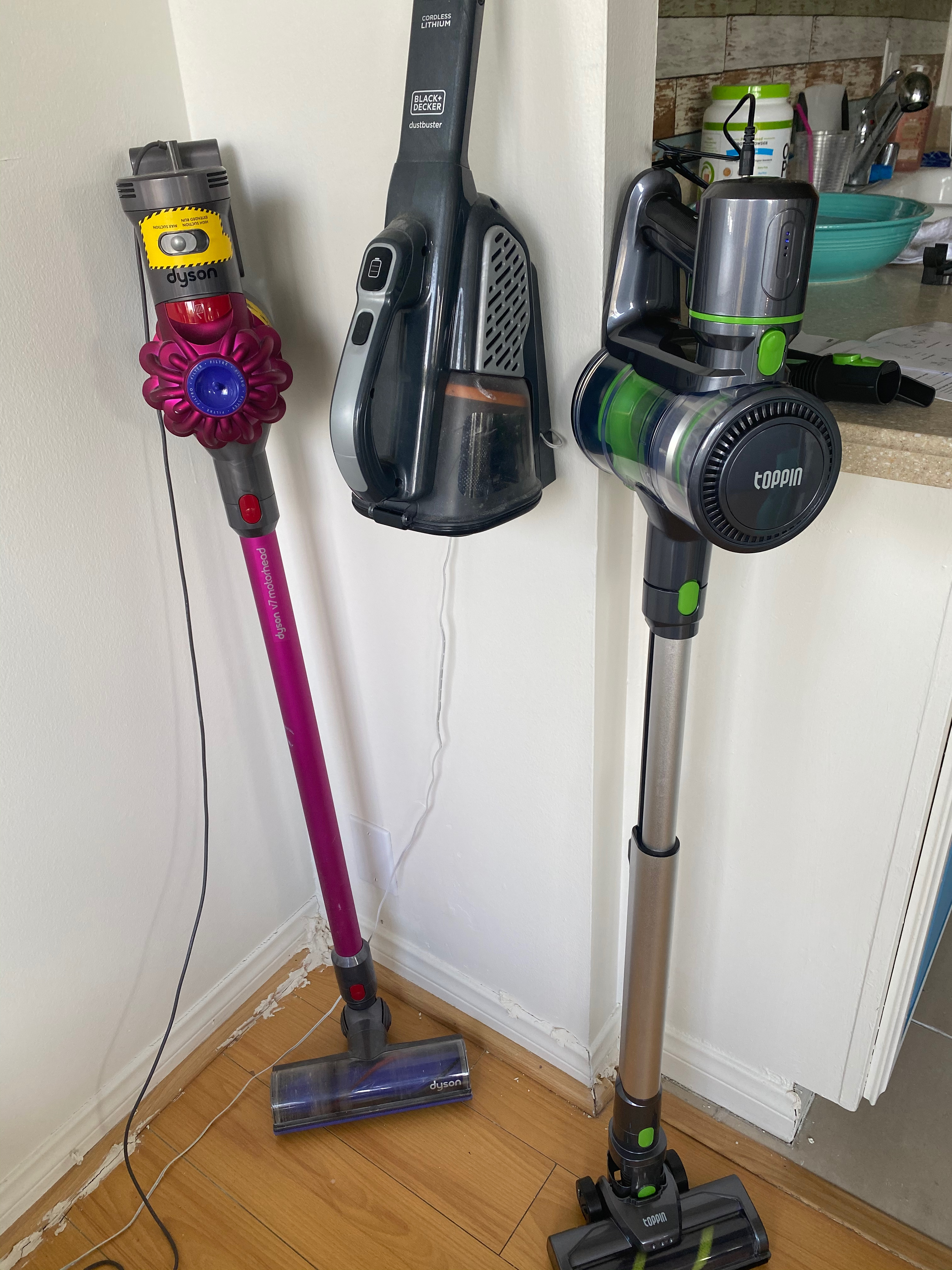 The Toppin cordless vacuum (right) joined my kitchen nook collection.
Four hours later, I gave the Toppin cordless vacuum a test run on my hardwood and tile floors and the accumulated holiday glitter there. 
The powerful suction (38,000RPM/min) did the dirty corner jobs - stat. The red and green glitter gone from the floors, I gave it a spin on the sofa cushions and pillows. The Toppin performed as well on my upholstery as it did on the floor - and I didn't even run out of charge. 
With up to 35 minutes of work time per charge, it lasted a bit (5 minutes) longer than my Dyson V7. And better yet - my trigger finger wasn't sore. 
Unlike my Dyson, the Toppin cordless vacuum requires just one pull to start, meaning I don't have to hold the lever back while using it during a cleaning session. And at 3.08 pounds, it was lighter and easier to use than the 5.3-pound Dyson. 
The Toppin Cordless Vacuum  Pros and Cons
Detachable 2200mAh lithium battery provides up to 35 minutes runtime, ensures an uninterrupted cleaning before 4-hour recharging is needed. A removable battery makes it easy to charge separately or buy a spare battery.

 
Ideal for Homes with Kids and Pets
When I began fostering cats in the new year - four of them - my Toppin cordless vacuum quickly became my go-to favorite.
Without the need for a continuous finger pull during cleaning, the lighter weight gave my writing-weary hands a welcome break. Having this lightweight vacuum handy has made my 2021 cleaning routine - with four felines temporarily in residence - even easier! 
If you'd like to try one in your home, use discount code Tara15, 15% off on Toppinlife.com
Instagram: https://www.instagram.com/toppinlife/