toy storage solutions
Oh, toys. Many toys. Many big toys. The most effective toy storage solutions include dividing and labeling everything.
Since most preschoolers can't read, these won't be your file-folder labels. Instead, use picture labels of socks, shorts, shirts, and dinosaurs help your preschooler know where things go.
For example, I went online and found the Thomas the Tank Engine home page, printed it out, and taped it to my son's bin of Thomas toys. Now, he knows exactly in which plastic tub to find and return his Thomas trains.
Here are some of my favorite ways to stash and display his bulky and hard-to-stash playtime favorites:
Toy Storage Solutions for Big and Bulky Playtime Favorites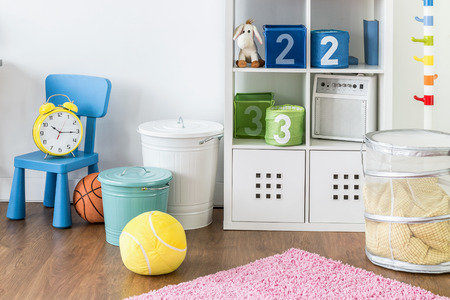 Create a play area in one corner where it's okay to leave big toys out.
Here are some of my favorite kids storage solutions to stash and display bulky and hard-to-hide playtime favorites:

Buy storage bins for games and toys, such as plastic tubs that tuck under the bed, roller drawers and cubbies, small bookcases, and toy drawers.
Create a play area in

one corner where it's okay to leave big toys out. Confine it with a small area rug.
 Put fire trucks, trains, and larger-than-life stuffed toys in big plastic dish tubs.
Save the zippered plastic ba

gs that new comforters come in and use them to pack away whatever stuffed animals or other toys are currently out of favor.

Recycle old kid-safe furniture, such

as discarded entertainment and computer centers - even old kitchen islands - to make great storage for a kid's room.
Skip the clunky, expensive toy box i

n favor of a laundry (now toy) basket.

Let toys double as decor. D

olls and trucks can decorate dresser tops.
Hang space-hogging dolls and airplanes in flight

from the top of canopy beds with fishing line.
Use an over-the-door clear plastic shoe bag for foot soldiers and airplanes in search of a hangar.
If you're really space-crunched, create a toy library.

Rotate the preschooler's faves in and out every week or so, and store the rest in another room, the basement, or attic.
---
---