tips for cleaning stainless steel pans
Over time, stainless steel cooking items tend to build up a film that it often seems no amount of scrubbing can remove.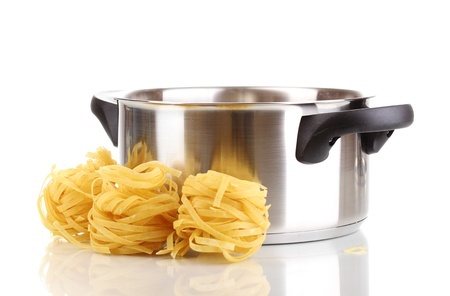 Resist the urge to submerge: Less is more when it comes to cleaning stainless steel.
The quickest way to remove burnt on stains or scorches is using a metal polish or cleaner, the type you'll find at your local grocery or hardware store.
Wear gloves to protect your hands from the metal polish and the metal from fingerprints.
Cotton is best, but rubber works as long as you wash a new pair first. (Any sulfur that remains on the gloves could tarnish the silver.)
Always test a small area first to make sure the polish is compatible with your piece before tackling the entirety.
If marks persist, wash by hand with phosphate-free dish-washing liquid to remove stains, or use club soda to remove streaks or heat stains.
Avoid abrasives - they'll destroy the surface sheen.
Cooked-on food or grease can be removed by gently scrubbing it with a paste of baking soda and water and a soft rag or nylon scrubber.
For more cleaning solutions for stainless steel, visit the Clean Organized Home Store.
Related Stories:
---
---