housecleaning and organizing with kids
Getting kids involved in house cleaning teaches them essential life skills.
Welcome!
Here you'll find everything you need to know about house cleaning and organizing to create and maintain an organized home.
From cleaning smarter and quicker with kids, organizing room-by-room, lightening the laundry load, corralling kids, and even preparing the family car for calm carpools and relaxing weekend getaways - it's all here.
You'll learn how to:
Organize and create fun storage for every family member's activities, so there's a place for everything and everything stays in place
Plan help-yourself menus for frantic nights
Divvy up chores equably and get them done without nagging
Get started making your home a cleaner, more organized, and more efficient place by choosing a housekeeping category below:
---
Why involve the family in house cleaning?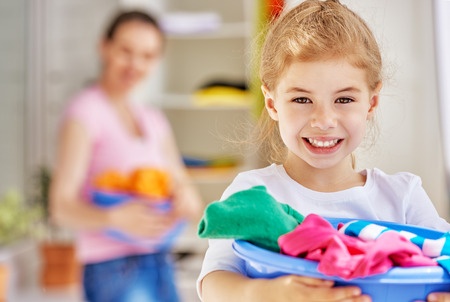 Getting kids to help with cleaning and organizing is key to everything running smoothly.
When you involve everyone in the family in the quest for a clean, organized home, you'll find there will be room for every drawing, school paper, and test that arrives each day - and even the littlest family member will know where that is.

The wild carpool routine will be tamed, the family plan for cleaning surfaces will be in place, and surprise visits from friends won't be dreaded, and even the most domestically challenged will be ready in a flash to host unexpected friends and family overnight. 

The point is: No Mom (or Dad) should be an island. Unless parents have a battle plan designed to guide the troops through the minefield of daily life, they can't expect to survive the pre-college years with their sanity it.
Then once they devise their battle plan, it shouldn't be top secret! The plan should be posted so everyone is in sync with what needs to be done when.
Start finding housecleaning solutions and ways to simplify life now by choosing a category:
I'm glad you're here - and I welcome your comments!


About the Author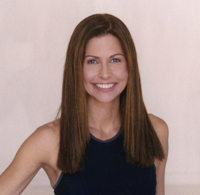 Tara Aronson is a native Californian. Having grown up in San Diego, she studied journalism and Spanish to pursue a career in newspaper writing. Tara, whose three children - Chris, Lyndsay, and Payne - are the light of her life, now lives and writes in Los Angeles. She also regularly appears on television news programs throughout the U.S.
The Clean Home Blog keeps you up-to-date with all the additions and changes to the Clean-Organized-Family-Home.com Web site.
The bathroom is usually the busiest, most used room in the house. Keeping it clean and organized is a daily challenge. These bathroom cleaning and organizing tips can help.
By its very nature, the garage is a no man's (or no woman's) land. It isn't exactly part of the house; but it isn't outside, either. Here's how to regain control of this precious real estate.
The kitchen is the room where everyone congregates. That's one of the reasons it's the messiest rooms in the house. Here's how to get it organized.
Getting your home clean is a challenge - especially when kids are involved. These tips for creating a house cleaning schedule, a house cleaning list, and a room by room cleaning list can help.
Green cleaning is an easy way to do the housecleaning without exposing your home and your family to harsh chemicals. These green cleaning tips can help.
Got kids? Then you've got laundry. Piles and piles of it. Here's how to navigate the stains of daily life, while protecting your clothing investment
We spend much of our lives in the car as parents. These tips will help ensure we're prepared for any bumps in the road ahead, while keeping things organized and sane (relatively) on the road.
We're keeping more inside our homes them than ever before. Organize your home and its contents with these simple tips.
Once spring arrives, backyard family living begins - and it's rush hour on patios, flower beds, and lawns. Yet tidying up outside often takes a backseat to garden and pool parties.
Family life presents challenges to scheduling, cleaning, and even peaceful co-existence among siblings. These solutions for sharing a bathroom, a bedroom, and creating morning schedules that work
The goal of any living area is to make it a warm, welcoming place. It's ironic, but usually the living rooms is the deadest rooms in the house. These easy home decorating tips can help you create a
Prevention, in the form of home maintenance tackled monthly throughout the year, is the best way to keep small problems from becoming big, expensive fixes. These tips can help
Easy ways to keep your home and family safe from intruders, accidents, and natural disasters.
Kids love a pet. You don't have to be Dr. Doolittle to realize animals offer many benefits for kids. Before you bring an animal home, make sure you've considered the pros and cons.