backyard family living
container gardening with kids.
Anything can be a container for your kids' planting adventure. From old athletic shoes to plastic soda bottles cut in half painted with flowers, butterflies or hearts, to rain boots and dump trucks and toy wheel barrows. Read Container Gardening Ideas for Kids to get started here.
5 tips for choosing indoor plant containers.
The right pot can make or break a plant. Plants are the botanical equivalent of the basic black dress. And containers are the accessories that can dress them up or dress them down. Here are 5 Tips for Choosing the Right Container for Your Plant.
how to compost without worms.
Composting without worms, the process from raw ingredients to useable compost will take about two months. Start by placing your composting tumbler in an out of the way place in your backyard. Here's how to Compost Without Worms.
8 tips for keeping houseplants healthy.
Houseplants provide beauty, serenity, even oxygen as they go about their daily growth and flowering.mCan you keep inside plants healthy and vigorous even if you can barely spare a minute to care for them?  Yes - if you follow these 8 simple rules for healthy house plants.
survivor houseplants.
Indoor gardening is like marriage. You just have to find the right one for you - a plant that matches your personality, lifestyle, and skill. Using this guide, you can find your personality type and discover which house plants are the best match for you. (And which plants to avoid.) Find your perfect indoor house plant mate here.
good garden bugs: the 10 most wanted.
In this case, these good garden bugs really are the 10 Most Wanted in your backyard. What's that you say? No such thing as a good insect? The only good bugs are dead ones? Nah. These good guys eat the bad bugs. Here are the 10 good garden bugs you'll want to make and keep a part of your backyard garden.
the 9 essential garden tools.
You'll definitely need a few garden tools to start gardening. You don't have to splurge on top of the line, but don't buy the flimsy $2 variety, either. They'll just break or bend and frustrate you. But tools are expensive, so which ones do you really need? Here's a guide to the 9 essential garden tools.
bad garden bugs: the dirty dozen.
These bad garden bugs are wanted in the Wild, Wild West way: dead or alive. These bad bugs eat or suck the juices out of our prized backyard plants. And since they go from plant to plant, they also spread diseases. Here are the dirty dozen bad garden bugs to be on the prowl for.
gardening with kids.
Spring is a great time to begin gardening with kids. After all, it's a natural pairing - kids seem to be born with a love of growing things and of the outdoors on a spring day. (Or any day, for that matter.) Kids start off in the right frame of mind. Here's how to get started gardening with kids.
planting tips for flower bulbs.
The word "bulbs" brings to mind the stately tulips and cheerful daffodils that grace spring gardens. But bulbs can provide color in the garden year round. Here are a few flower bulbs to consider for each season of the year.
Backyard Family Living Page 2 >>
---
---
About the Author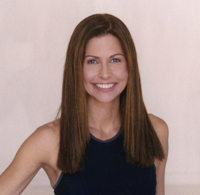 Tara Aronson is a native Californian. Having grown up in San Diego, she studied journalism and Spanish to pursue a career in newspaper writing. Tara, whose three children - Chris, Lyndsay, and Payne - are the light of her life, now lives and writes in Los Angeles. She also regularly appears on television news programs throughout the U.S.