Simplifying Family Life


10 rules for a successful slumber party.


"Mom, can I have a slumber party?"
Those words can strike fear into any parent's heart.
Slumber parties often degenerate into all night free-for-alls in which the sweetest child by day turns into an insolent monster by night.
And with the holiday season approaching you can expect the question to pop up any day now.
You'd like to be a nice parent. you'd like to say yes. But how can you keep crowd control?
For starters: There's a lot to be said for slumber party etiquette.
Share these 10 overnight party etiquette tips with your young guests when they arrive. And then follow these simple rules for a successful slumber party:
Not too young: The kids should be at least 8 years old. Younger kids often don't cope well and require way too much supervision.
Not too many: This is one time when you don't want to invite the whole class. Four is a nice number. Six may be doable for very special occasions like birthdays.
Keep even numbers: One may be a lonely number but three is a squabbling number, particularly with girls. Read on here.
---
ideas for holiday traditions you can start this year.

Would you like to create some new holiday traditions for your family for the holiday season ahead?
Need some ideas? Here are just a few to jumpstart your thinking.
Consider a Recipe Exchange.
Instead of a cookie exchange, get your friends together for a recipe exchange. Set a theme. It could be fast meals for school nights, holiday hors d'oeuvres, or holiday desserts.
Then have a potluck party where everyone brings their favorite dish and copies of the recipe for all the guests. You go into the holidays armed with new menu ideas.
Create a Christmas Chore Tree.

There's so much to do for the holidays that everyone needs to chip in. Here's a fun way of delegating tasks: Set aside a small artificial tree without ornaments.
Assign each family member a color bulb and tasks to help prepare for the holidays.
As he or she accomplishes each task, she can hang one of her ornaments on the tree.
The first person to hang all his or her bulbs wins a special gift, surprise, outing - whatever is treasured in your family. Read on here.
---
Suggested Reading
Clean Home
› Family Life
About the Author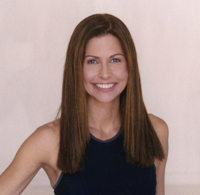 Tara Aronson is a native Californian. Having grown up in San Diego, she studied journalism and Spanish to pursue a career in newspaper writing. Tara, whose three children - Chris, Lyndsay, and Payne - are the light of her life, now lives and writes in Los Angeles. She also regularly appears on television news programs throughout the U.S.