bedroom ideas for tweens
'Tweens are close in age to the gradeschool stage, but developmentally, they are morphing into little teenagers. Design ideas need to embrace this transition.

Tweens have fewer traditional toys. They fall from favor and are replaced by smaller, pricier, more technological toys. And now the kids need places to put these things.
It's time to tweak the desk setup, get rid of the tchotchkes of childhood, and clear the shelves for adolescence. These bedroom ideas for tweens can help get that transition going smoothly.
Bedroom Ideas for Tweens Embrace The Transition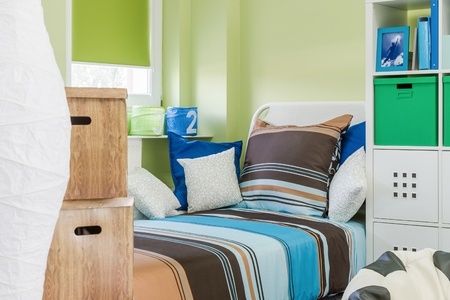 Paint and bed linens are an inexpensive way to allow tweens to customize their bedrooms.
Bookshelves can be double-bolted to hold a CD-player/radio combo unit with speakers. Plus, of course, the desk is home for that homework must-have: the computer.

In our house, MP3s, PlayStations, and TVs aren't bedroom decor. 
But if you do decide to house your tweens' stuff there, create a small entertainment area and set ground rules for its use.
These might include no electronic games until all homework is finished and lunch made for tomorrow.

Set a daily time limit (an hour or two each school day, perhaps) for these indoor energy-zappers. Yes, I know they love them.

But we're the parents, remember? To avoid the socially challenged nerd syndrome, we have to kick them out of the house sometimes.

This is also the stage of sports, hobbies, and lessons.
Now the stuff in his room is more focused, but you'll still need to make room to store dance stuff, volleyball gear, soccer equipment, etc. 
Naturally, you'll also need a place to display ribbons, trophies, and certificates. It's time to reach back to the preschooler setup of (seemingly) so long ago.
Design ideas for these items include: a canopy on a bed can make a dramatic frame for hanging your child's ribbons from riding, swimming, soccer, whatever.
Bulletin boards work wonders, but they are rarely big enough to house all the awards that come with today's sports teams. 
Design Ideas That Make Room for Sleepovers
The tween years are the golden age of sleepovers. This is one reason why the bedroom is oh-so-very crucial for tweens. Don't fight it; make it less painful for both them and you.

If your tween has a single bed, now's the time to add that trundle.
Design ideas should include making sure there's enough floor area for a pair of sleeping bags.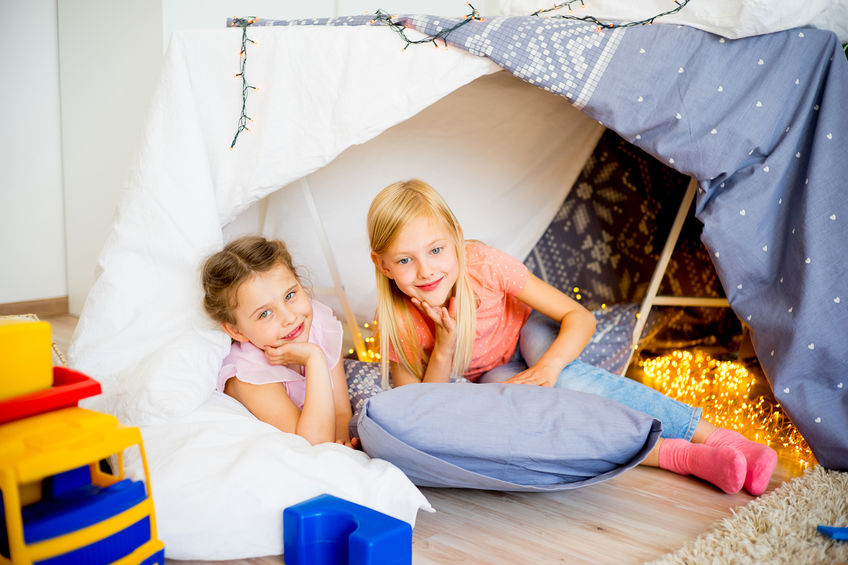 The tween years are the golden age of sleepovers, so make sure there's enough floor area for a pair of sleeping bags.
Fashion and clothes have suddenly hit this group's radar screen, making a full-length mirror (hung behind a door or covering sliding closet doors) a must.
Your not-so-little-anymore darlings are at last fully capable of taking care of their room and clothes. (A heavy sigh of relief is appropriate here.)

Meaning you provide drawers, shelves, shoe rack, and a hanging clothes rod or two, and your tween can take it from there.
She'll quite possibly insist on taking it from there. Let her, with limits.

Don't be surprised if there's some rebelling against the "babyish" design ideas you used in the room your tween grew up in. 
Green light Tweens' Design Ideas for Paint and Linens
Paint and linens are comparatively inexpensive decor ideas.

My philosophy is that tweens' decor ideas are important - and they can decorate in any way they want, as long as it doesn't permanently damage the room and is not offensive.

 But I put my foot down when my tween began her campaign for a new bed. The bunk bed, it seems, is suddenly so babyish.
A canopy bed, queen-size, please, suddenly topped her most-wanted list, which is where it will stay for the foreseeable future.

I say no to expensive makeovers at this stage of the parenting game.

In a couple of years, she'll again be in the market to reinvent her private chambers. Take a deep breath here. She'll be A teenager.

---
---