Kids Bathroom Decorating Ideas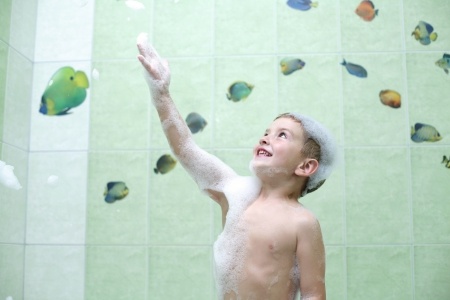 Kids bathroom decorating ideas.
Kids bathroom decorating ideas. If you want the kids to spend enough time in the bathroom to get the daily stuff done, make it a place that's fun as well as functional.

Because space is at such a premium here, your decorations must be functional as well as pleasant. To this end, it pays to make kids a part of the decorating process.
Give the bathroom a theme you can live with, and let the kids choose the colors. Make it fun! These kids bathroom decorating ideas can help get the decor process started.
Kids Bathroom Decorating Ideas: Safety First
Use child-safe decorations to make the bathroom safe for wet little ones. Add
nonslip bath rugs
,
non-slip mildew resistant bathtub stickers
, and plastic cups for post-brush rinsing.
With safety secured, it's time to move on to kids bathroom ideas for playful decor. Choose kid-friendly accessory themes. Kids don't want their bathrooms to have a spa look - that island-of-tranquility bit is not their thing. This is the place for color and fun, a place where a child can make his or her imprint.
Choose A Kid-Approved Theme
Consider
ducky accessories and soap dispensers
and a
yellow rubber ducky shower curtain
for your toddler.
An older daughter might choose tiny ceramic flowerpots (self-decorated, of course) to contain her cotton balls and Q-Tips. Let them help you choose a look they'll love. For a less cluttered look, choose coordinating containers for toothbrush, soap, and tissues.
Give the Bathroom a Facelift
A new coat of paint is the quickest, cheapest, and arguably most dramatic way to give new life to an old bathroom. Don't forget the switch plate, toilet paper holder, and the like.
Consider a
removable switch plate decal
as an easy alternative to tackling the challenge of detail painting around outlets.
Accent the bath in contrasting colors for a stylish flair. Seal with a clear waterproof coating. Good, calming color choices (blues, greens) can help make mad morning dashes feel less stressful.
Bring in Fresh Replacements
Soft, thirsty, fluffy new towels in a hot new color or seasonal hue will provide not only the update you're looking for but a luxurious treat for your hands and body as well. Be sure to wash your towels right from the start, and they'll stay soft and thirsty for years to come.
Replace the shower curtain. Fresh, clean colors and styles will appeal to your sense of cleanliness and loveliness, and if they coordinate with the linens, it'll help give the kids' bathroom a completely new look. (If your bathroom's tiny, however, a clear curtain is the best choice.)

Replace the shower curtain hooks, too with something snazzier like these
steel silver dolphin shower curtain hooks.
Kids Bathroom Decorating Ideas: Add a New Reflection
Why stop at just one bathroom mirror? Brighten up the smallest bathroom by bringing in a new looking glass. This tried-and-true decorating trick makes the room seem larger by reflecting light.
Add some serious pizzazz by framing your mirror (if it's one of those basic mirrors that you adhere to the wall above the sink). Cut your choice of molding to fit, and then paint it your favorite color or brush on an elegant gold or silver. Glue the frame in place with liquid glue.
 Replace Old, Mismatched Fixtures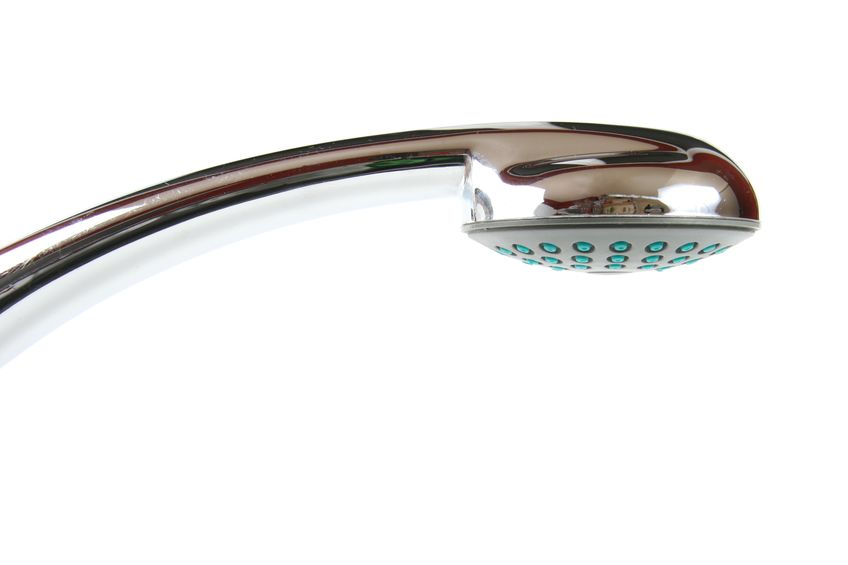 Replace old, mismatched bathroom fixtures with new, personality-plus styles. Drawer pulls, and cabinet handles come in multiple colors and styles. I used a pewter bat-and-ball drawer pull for my son Chris's bathroom.
You can buy drawer pulls
in whatever sport, color, or animals (the possibilities are endless
your child likes to make a jazzy statement on a shoestring.
Replace rusted, old, or unsightly faucet and light fixtures. While this is not an inexpensive option, it does make a world of difference. And while you're at it, consider a new showerhead or new faucet and handles for the sink.

Kids Bathroom Decorating Ideas - Add Light
To make the bathroom seem larger and more spacious, add another light to this small room. It opens up a small space and adds interest. A recessed spotlight is a low-profile solution. Wall sconces are an elegant choice for half-baths and guest bathrooms.
Make It Bloom
Add a small
decorative bud vase
and fill it with a flower fresh from the garden to add a polishing splash of color and personality. Now, have fun bringing to life your own kids bathroom ideas!
Kids Bathroom Decorating Ideas