Follow Us
how to have a clean home

spring cleaning with kids.
Spring cleaning - that annual rite of deep housecleaning embraced by beatniks and good housekeepers everywhere - still has a place in today's time crunched, busy household.
No matter how busy you are, or perhaps because your home seems to have a revolving door - the annual purging of a year's worth of mildew, grime, dust, and dirt still needs to be done so you can get by with simple surface cleanings the rest of the year.
But you and the kids don't have to spend an entire weekend with brooms and mops in hand to get your home fresh with springtime cheers. These cleaning tips and tricks can help you get started spring cleaning with kids.
---
flu fighter 2014: 10 tips to keep your family healthy.

While we can't do much about being in the thick of the 2013-2014 flu season, there are plenty of things we can do to keep ourselves virus free through simple housecleaning.
First and foremost, of course, is getting the flu vaccine. And no, it's still not too late. The flu season can continue through May, and even if you've had the virus, the flu shot can keep you from getting one of the other virus varieties floating around this season.
There are also specific home cleaning things you can do to ensure your family stays as healthy as possible. Here are 10 ways to keep your home as flu virus free as possible.
---
floor care tips.

Wood floors are a tough challenge in high traffic rooms. Still, whether your are oak, maple, ash, or beach, making wood floors shine is as safe and simple as it gets.
Laminate floors are easy to keep luxurious by regularly vacuuming, dust mopping, or wiping them with a damp (not wet) cloth. Get the full laminate floor care routine here.
Linoleum floors requires little more than regular damp mopping (use very little water, which can make the surface brittle) or dry dust mopping to rid the surface of grit and dust before it is ground in.
---
housekeeping chores for march.
Here's my top 10 list of things to do in and around your home in March to get you started.
And below, you'll find easy housekeeping tips from furniture care and mold removal to rug care and carpet stain removal.
You'll find housekeeping is quicker and easier than ever before. Get the March Home Checklist.
---
more housekeeping stories:

Clean Home
› Coming Clean
About the Author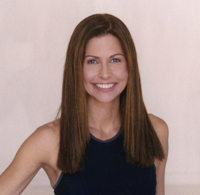 Tara Aronson is a native Californian. Having grown up in San Diego, she studied journalism and Spanish to pursue a career in newspaper writing. Tara, whose three children - Chris, Lyndsay, and Payne - are the light of her life, now lives and writes in Los Angeles. She also regularly appears on television news programs throughout the U.S.