Custom Search
Coming Clean

Clean and fire up those grills!
Memorial Day is upon us. And that means just one thing - backyard barbecues.
Yes, friends, it is time for the annual ceremonial lighting of the grills. The ritual that truly kicks off the summer season.
But before you light that match or turn on the gas, you might want to take a closer look at that idle outsider.
That grill has been sitting now for six or seven months, accumulating dirt, insects, and rust.
Just as you wouldn't fry an egg in a dirty frying pan, you wouldn't throw that lovely swordfish steak on a dirty grate, would you?
Here's how to get your grill ready to go.

Suggested Reading
Bathroom Buffing with Vinegar. This effective, inexpensive, green cleaner can make quick work of bathroom buffing.
Lamp Care Tips. How to care for lamp shades of a variety of fabrics.

How to Care for Wood Furniture. Tips for keeping wood furniture supple and looking its best.

Living Area Chores for Kids By Age. You didn't mess up the house yourself - why should you be the only one cleaning it? Here's how kids can help.
Bedroom Chores for Kids by Age. A guide to what chores you can reasonably expect a child, given her age, to help out with in her bedroom.

Linoleum Floor Care and Wear Tips. How to keep linoleum buffed and shiny.

Laminate Floor Care and Wear Tips. What to know about these fabulous floors - and how to care for them.

How to Remove Common Carpet Stains. From blood to ballpoint pen ink to pet accidents, these tips can help solve the most common carpet stain dilemmas.

How to Make Cloudy Crystal Shine Again. If your stemware is looking a bit worse for wear these days, you can revive it with by putting the right brightening practices into play.
June Home Checklist Break down annual maintenance chores into monthly tasks so that by year's end your home's systems and surfaces are sparkling.

How to Revive Silver Tarnished silver? The cleaning solution is probably right in your kitchen.

How to Remove Nail Polish Spills If your daughter (or, shhh, you) had an oops with the nail polish and now the carpet or furniture is looking colorfully worse for wear, these tips will help remove the offending blight.

Housecleaning Timetable What chores are essential - and how often should you do them? This timetable provides all the details on what to do - and when to do it.

How to Remove Candle Wax from Carpet If last night's relaxing, candle-light dinner left you with a waxy carpet blight, here's how to remove it.

How to De-grime Blinds and Window Coverings If the glass is sparkling but the blinds or curtains, not so much, here's how to revive them.

How to Buff Brick This porous material requires special attention. Here's how to revive brick surfaces in your home and bring that fireplace back to beautiful life this fall.

How to Create a Chore Chart Now that you've got the family involved in the housekeeping routine, stay on top of chores each week with this easy to create chore chart.

Buff Up Your (Computer) Act Buff the screen, the mouse, the computer casing... easily and safely with these tips.

Get Rid of Smelly Fridge Odors Few things are worse than the post-fish dinner - and worse - smells a fridge can hang on to. Here's how to get rid of them.

11 Family Cleaning Rules If a family of volunteers is a new concept in your home, these tips will help ensure a smooth start to your new family routine.

Jewelery Care Tips Nothing lasts forever - not even a diamond - if you don't clean it properly. Here's how to safely polish pearls, silver, gold and more.

Kids Chores Daily by Age Age-appropriate chores for kids.

Kids Chores Monthly by Age Age-appropriate monthly chores for kids.

Kids Chores Seasonally by Age Age appropriate chores for kids seasonally by age.

Kids Chores Yearly by Age Age-appropriate chores for kids yearly by age.

Truth or Consequences: Chores and Kids What to do when kids flub on chores.

How to Buff Lampshades Dust, dirt and grime are a lampshade's worst enemies. These simple tips will help you remove them.

How to Buff Marble Surfaces This porous stone is prone to stains - here's how to get them out.

How to Motivate Kids They aren't inclined to want to do chores, and who can blame them? However, everyone in the home needs to pitch in on its care. Here's how to motivate kids to go along with the program.

How to Prep Patio Furniture After a season's worth of diuse, your patio furniture needs a good buffing before you bring it out for spring.

How to Handle Pet Messes Pet piddle or worse - it needs to be taken care of. Here are tips you need to keep your home and family safe.

How to Buff Plexiglas Although it looks like glass, this specialty surface requires a different buffing routine.

Household Products Defined Abrasive, semi-abrasive, pH cleaners - how do you know which is which? This product primer can help.

How to Remove Rust Remove tarnish and rust easily with these tips.

How to Rid Upholstery of Chocolate Stains Simple steps to removing chocolate from couches, chairs and curtains.

Vacuuming 101 There's more to vacuuming than just giving the carpet a once-over. Here's how to use the machine right.

How to Make Windows Sparkle You don't have to spend lots of time or money to make your windows sparkle - here's how.
Return to Home Page

About the Author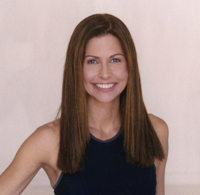 Tara Aronson is a native Californian. Having grown up in San Diego, she studied journalism and Spanish to pursue a career in newspaper writing. Tara, whose three children - Chris, Lyndsay, and Payne - are the light of her life, now lives and writes in Los Angeles. She also regularly appears on television news programs throughout the U.S.