how to Organize Your Home
7 easy fall organizing tips.
The items you use most should be within reach.
The secret to an organized life?
Time.
Since we can't get any more of it, we need to deftly manage what we have.
We have busy schedules that, without a plan, can wreak havoc on our days.
With family members going in so many different directions, a master schedule is essential.
Right now, before the mad dash of the holiday season is underway and we're busy with seasonal stuff, is a great time to consider getting it all together at home, starting with a master family schedule and concluding with a renewed cleaning routine.
Read the 7 fall organizing tips here.
---
How to organize toys.
Kids can help by learning to put their toys back in the proper labeled bin or basket after playtime.
Oh, toys. Many toys. Many big toys. There's one rule when it comes to toy storage solutions: Divide and label. Everything.
Since most preschoolers can't read, these organizing ideas won't include your home office file-folder labels. Instead: consider kids room storage with picture labels.
Pictures of socks, short, shirts, and dinosaurs help your preschooler know where each of these things go.
Color or tape pictures on every box, bin, or bag of the items that go inside.
For example, I went to the Thomas the Tank Engine home page, printed out a train picture, and taped it to my preschooler's bin of Thomas toys.
Read the full story on organizing toys here.
---
how to organize your bathroom sink area.
The biggest challenge here is that people often share this small space.
Bathroom organization is key to everyone getting out the door on time each morning. Yet the most used area - the sink - is usually the first to get clogged with stuff.
There goes that timely departure you'd planned.
The biggest challenge here is that people often share this small space.
And people have different stuff that, naturally, they want front and center on the sink area. Which means the sink area has just become valuable home surface real estate. 
To keep clutter from slowing down your daily routine, try these 3 storage ideas for bathrooms.
---
more stories:
---
---
About the Author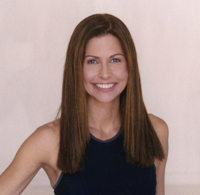 Tara Aronson is a native Californian. Having grown up in San Diego, she studied journalism and Spanish to pursue a career in newspaper writing. Tara, whose three children - Chris, Lyndsay, and Payne - are the light of her life, now lives and writes in Los Angeles. She also regularly appears on television news programs throughout the U.S.