Bathroom Organization Tips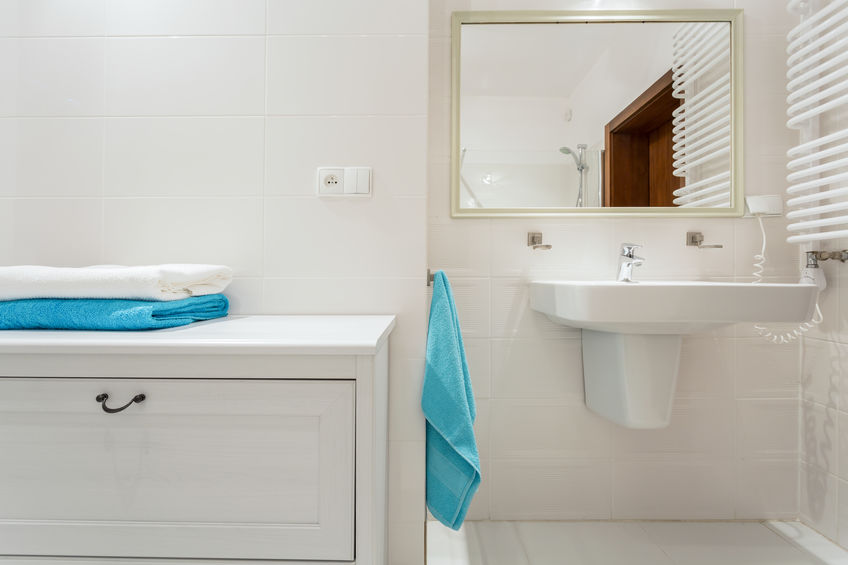 The busy bathroom is the place to take advantage of the many tools and gadgets designed to organize your home's tight spaces. These bathroom organization tips can help.
By design, most bathrooms leave little room for a major improvement in terms of storage. 
Still, there are plenty of little things you can do to make the most of these cramped quarters. Here's how to conquer the clutter and master bathroom organization.

Begin Bathroom Organization Tips For Surface Decluttering
Start the bathroom organization process by cleaning out the one major area in the bathroom that was designed specifically for toiletry storage - the medicine cabinet. These bathroom organization tips can help get things started.

Get rid of expired medications as well as any toiletries you've had for longer than two years, including shampoos, lotions, makeup, and soap.
Besides creating more space, clearing out your cabinet will minimize health risks, as bacteria and fungi  can contamination lotions and cosmetics over time. (This guide to how long makeup lasts can help.)
If you've cleaned everything possible out of your cabinet and you still can't control the clutter, these bathroom organization tips can help.
Consider installing a second wall-mounted medicine cabinet. Or you can hang a shower caddy over the showerhead to keep shampoo, shaving cream, soap, and razors within reach but somewhat out of eyesight.
Bathroom Organization Tips for the Toilet Area
Bathroom organization tips for the area around the toilet is pretty straightforward. The toilet itself being fixed in place, you don't have much to find a home for here.

But there is a thing or two that can and should be kept close by. I keep extra rolls of toilet paper in a woven basket stashed between the wall and the porcelain potty, so hands in need of washing don't go wandering and contaminating cabinets beneath the sink and other surfaces.
Other easy bathroom organization tips: This is also an excellent place to keep a bowl or basket of sanitary supplies or individually wrapped hand wipes. Station a magazine or book rack near the potty to keep big and little hands occupied.

Take advantage of the empty space above the toilet by adding a small cabinet or shelves to hold extra linens or toiletries. Freestanding over-the-commode shelves can maximize this space right up to the ceiling.
But be careful what you display here; small items that fall into the toilet bowl will be no fun to retrieve. 
Streamline the Sink Area
The counter space around the sink is precious real estate. And the area in the cabinet under the sink is limited, too. Most families have far too many potions and lotions here, and far too little space. 
Since most bathrooms don't have much storage room, you'll need to organize what you have to maximum effect.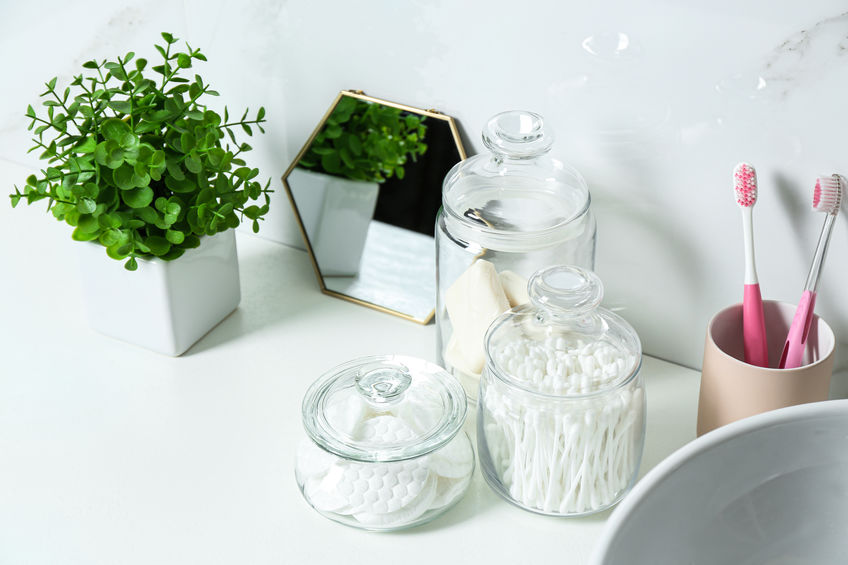 Inexpensive containers can corral sink area clutter.
Let's start with the counter area around the sink. Look critically at what you have sitting here. If it isn't used often - several times a day - get ready to move it somewhere else.
Certainly, get rid of anything that's just decorative and serves no useful function for you or the kids.
Keeping bathroom counter clutter to a minimum will help you and the kids maximize time spent here  in the morning's mad dash to get out the door on time. 
Get rid of anything that doesn't truly belong on the counter. Then, get a few attractive containers to organize what's left, such as Q-Tips, cotton balls, and the day's jewelry. Keep those to a minimum, too.
One thing that does belong on your bathroom counter is soap. Supply the sink with a pump bottle of liquid soap that's easy (and fun!) for little hands to use. Liquid soap is much less messy than traditional bar soap. 
Consider installing a paper-cup dispenser in the bathroom on or near the sink counter. Using disposable paper cups instead of reusable plastic cups prevents spreading colds and other viruses among family members. Some germs can thrive for days on rinseable cups. 
Organizing the Under-sink Cabinet
Now let's work on the cabinet under the sink, along with drawers if you're lucky enough to have them. (If your bathroom has no storage space there, mount a small coated-wire grid on the wall and hang personal appliances such as hair dryers and curling irons from it with S-hooks.)
Start by dividing, paring down what you and the kids don't need, and organizing the rest so that you free up precious under-sink and drawer space. 
First, empty the contents of every drawer and cabinet in your bathroom. Toss what you can. (Do you really need to keep those six bottles of hair gel you tried and didn't like?) 
Next, sort what's left into two piles or boxes: one for frequently used items and a second for seldom-used items. Place the second box outside the bathroom door: You'll need to find a place to store these non-essentials later. (Perhaps they can go in the back of the linen closet or on the top shelf of a child's closet.)
Under the sink (if you have a cabinet, that is) is the place for a space-saving plastic drawer unit. You may be able to fit two or three drawer units under your sink. They're great places to stash:
Extra shampoo and products
This is also the space for that cumbersome blow dryer and untameable cord, hairspray and styling gels, and extra bath soap, toilet paper, and tissue boxes.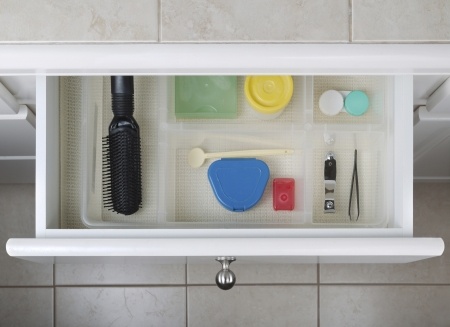 Drawer dividers are quick and inexpensive bathroom organizers.
Vanity drawers are where you should stash daily jewelry and toiletries for easy reach as you're cleaning up for bed each night. 
Kids' stuff, too. Teach the kids to organize their daily-use items, such as jewelry, combs, brushes, toothpaste, and toothbrush, in the place that's easiest to reach and use.  
And provide them with places to stash stuff at night, too. 
Drawer dividers are essential components of an organized bathroom. They should be considered essential in both your bathroom and the kids'. They keep things from being a jumble.
You can buy dividers for this purpose, or just use little cardboard jewelry gift boxes to keep like items together. 
For the hair accessories drawer, for example, you could have one basket for combs and brushes, another for barrettes, a third for hair ties and elastic bands, a fourth for headbands, and a fifth for scrunchies. 
If there are no built-in drawers, no worries, the plastic drawer units I mentioned earlier (hidden in cabinets beneath the sink) will do in a pinch.
The vanity cabinet in the kids' bath is the place to hang long necklaces and bracelets on hooks inside the cabinet door. It's also a handy location for a basket with the blow dryer, brush, gels, and hairspray.
It can also store those other fun gadgets you want to have on hand for the kids but have a tough time finding space for hot curlers, straightening irons, and crimpers. 
One very important note: The bathroom cabinet or counter is not the place to store medications. Be sure to keep all medicines on top shelves or in a medicine cabinet, out of a small child's reach.
Bathroom Organization for Storage Areas
No matter how luxurious your bathroom is, the under-the-sink cabinet and medicine chest probably don't offer enough storage space. Bathroom organization here includes making the most of every inch of bathroom space with one or more of these bathroom organization accessories. 
They can dramatically increase your bathroom's storage power. 
Use a wicker or wrought-iron wine rack to store rolled washcloths and towels. This is not only a way to put extra storage and spare towels at the ready, but rolled towels can also provide a colorful accent, especially in a child's bathroom. Coordinate the towels to your decor.
Near-sink bathroom organization shelving. If you're really short on space, single shelves hung near the sink provide perfect resting spots for soap, toothbrushes, and other daily essentials.
Towel bars with built-in shelving over the top. You can hang used towels on the bar and stack fresh replacements on the shelves for easy use. Or forgo the traditional towel bars all together in favor of antique or whimsical drawer pulls. Connect them to the wall with screws. Two or three together give a collected look. Hang a towel through each of the pulls for a finished look.
Wicker storage units are a good choice for baths because they withstand humidity well. And most pieces come with drawers for more bathroom-stuff storage for you and the kids. 

Even antiques can be a part of your bathroom organization. Need to recycle a few pieces from the other rooms in your home? An antique armoire, cupboard, chest, or table gives a bathroom more space as well as a delightfully elegant touch.

And, voila! You now have bathroom organization down pat - with space for the things you use daily!

Bathroom Organization Tips