Tips For Organizing Your Closet

Tips for organizing your closet. Does it take more than a minute to locate a favorite outfit in your closet? Do your freshly laundered or dry cleaned clothes come off the hanger in need of pressing?
Do you wear the same clothes each week, even though you pride yourself on your updated wardrobe?
If you answered "yes" to any of these questions, save time and rejuvenate your wardrobe with these tips for organizing your closet.
Tips For Organizing Your Closet : Getting Started
Start organizing your closet by removing all the clothes and accessories inside the closet, and sorting items by type: shirts, pants, suits, dresses, coats, shoes, belts, and handbags.

Set aside the things you don't wear anymore, and consider their future. Here are a few possibilities for dealing with these wardrobe leftovers:
Store winter or summer garments until the appropriate season.
Update old clothes by having them altered.
Donate unwanted wardrobe items to charity.
Sell valuable articles on consignment.
Use soft, worn-out clothes as cleaning or car washing rags.
Among the remaining garments, you'll probably find numerous wrinkled but wearable items that you haven't slipped on recently because you couldn't find them.
Make a mental note to place these "aha!" items in plain view in your organized closet.
Evaluate Past Storage While Organizing Your Closet
Now is an excellent time to evaluate your past storage methods and consider how you can be more efficient. Have you spent far too much time searching for the right shirt to go with a favorite suit? Consider hanging the two pieces side by side.
Are you a separates mix-and-matcher? Then group separates by color (so you can quickly scan for the day's color scheme)  or by type of garment, placing blazers next to shirts and pants beside skirts.
Decide whether it would be easier for you to view your clothes by type (work clothes and weekend wear), outfit, color, or length, and then arrange your closet accordingly.
Organizing Your Closet Tips: Double Up for More Space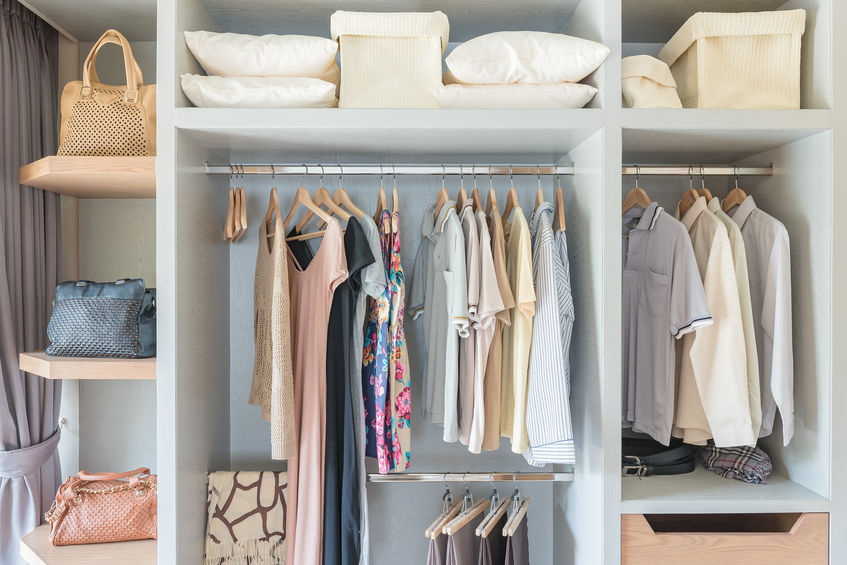 Tips for organizing your closet.
Alternatively, you might consider adding shelves for your
T-shirts, sweaters and shoes
beneath hanging items.
After all, when your clothing is buried inside dresser drawers, it's out of sight and less likely to be worn.
What's more, hanging a knitted or lightweight garment on a hanger can distort the shape of the fabric, detracting from its appearance and requiring more frequent - and more time-consuming - pressing.
Organizing Your Closet Tips - Bring In Reinforcements
What about those odds and ends that can clutter drawers and dresser tops?
Hang a mesh laundry bag in your closet to keep socks, stockings, handkerchiefs, and other small items easy to find.
Try looping belts over a hanger next to your pants, or hang them on hooks inside the door.
You can store hats or bags this way as well. A clear, over the door shoe rack also works well.

If you still have more stuff than room, it's time to bring in reinforcements. 

There are plenty of inexpensive organizing tools that can help you maximize your wardrobe space.
Over the door shoe organizers
keep shoes off the floor and in plain sight.
Also, there are plenty of racks for scarves, belts, hats, and other accessories that can save space in your closet.
If the basic design of your closet isn't functional for your wardrobe or leaves you short a hanging rod or three, you have several simple options: You can buy a new or antique freestanding armoire or wardrobe.

You can also purchase a
custom closet organizer system kit
and retool the space yourself.
Tips for Organizing Your Closet