easy laundry and stain removal tips

laundry day tips: how to remove stains from clothes.
Got kids? Then you've got laundry stains.
It's hard enough to keep up with the loads, let alone the challenge of cleaning the stains that come with them.
You can save money by cleaning stains yourself with these homemade stain remover tips.
Wondering which is better, liquid or powder detergent? The best general detergent formulation and stain remover for your family depends primarily on your family's wash load soils.
Here's how to decide what's best for your family's wash day needs.  You'll also want to consider the wash water temperature you choose, as the right wash water temperature is vital in getting clothes clean.
---
how to safely machine wash sweaters.

Whether you're washing a sweater or your favorite jeans, there are general rules you'll want to follow to ensure your clothes get clean.
Whether cashmere, acrylic, cotton or silk, a sweater can not only survive the laundering process -  it can even come out looking good and feeling clean.
Here's the 3 step method for safely machine washing your favorite sweaters.
---
how to unshrink a sweater.

Here are 5 steps to returning a shrunk sweater to its original size:
1. soak your sweater in warm water and baby shampoo for 15 minutes.
Start by soaking the sweater in a sink full of warm water and about two tablespoons baby shampoo. Washing achine detergent is to harsh for this delicate job.

About 15 minutes should allow enough time for the shampoo to relax the fibers enough so that you may begin the letting-out process.
2. remove your sweater from the soapy water.
Remove the sweater from the shampoo water. Rinse in cool water to remove shampoo from the fabric, pressing the soap out of the fabric.
Then squeeze - don't wring - as much of the remaining moisture out of the sweater as you can. Read the full story on how to unshrink a sweater here.
---
more stories:
Clean Home
› Laundry Tips
About the Author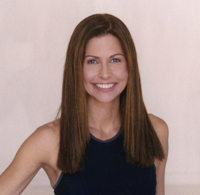 Tara Aronson is a native Californian. Having grown up in San Diego, she studied journalism and Spanish to pursue a career in newspaper writing. Tara, whose three children - Chris, Lyndsay, and Payne - are the light of her life, now lives and writes in Los Angeles. She also regularly appears on television news programs throughout the U.S.