laundry tips for jeans
The first generation of the 21st century has claimed the 1960s staple outerwear, the denim jacket and jeans, as their own.
New jeans and jackets, however, have been specially dyed to get that rough-and-tumble look to last through generations of washings. 
Chances are you bought those jeans or that denim jacket because you liked the color and texture of the denim as is.
To keep jeans looking good, you'll need to launder your denim carefully to keep its long-lasting legacy intact. These laundry tips for jeans can help keep your kid's jacket and jeans from looking like they're your grandmother's relics from the flower power days.
  1.  Laundry Tips for Jeans: 
Wash
 New Jeans Separately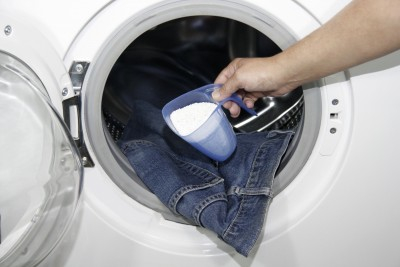 Wash new jeans solo in a light, cold water wash after bringing them to home.
wash dry denim separately the first time. Use a laundry detergent designed to keep their dark color safe and intact. The dye in most jeans transfers readily during the laundry cycle to its fellow bathers.
  2.  Turn Jeans Inside-Out Before Washing
Wash denim inside-out in warm or cool water to prevent fading (unless you want fading, of course.) Keep both new and washed jeans away from laundry detergents with bleach for the same reason.
  3. Avoid Frequently Tumble Drying or Dry Cleaning Jeans
Avoid frequent tumble-drying and dry cleaning. Heat may damage fibers, and dry cleaning may cause discoloration. When necessary, tumble dry while the dryer drum is cool and use delicate settings.
To extend the lifespan of jeans, lay them flat to dry whenever possible instead of tossing them into the dryer.
  4.  Don't Spot-Clean Jeans
Don't try to spot-clean denim. Instead, wash the entire pants so you don't create a faded area where the spot or spill was.
  5.  If Needed, Iron Jeans While Slightly Damp
Iron the denim while it is still damp. If, of course, the latest style guru endorses wrinkle-free jeans, that is.
Shop Laundry Detergent & Stain Removal
---
---