How to Spring Clean Your Closet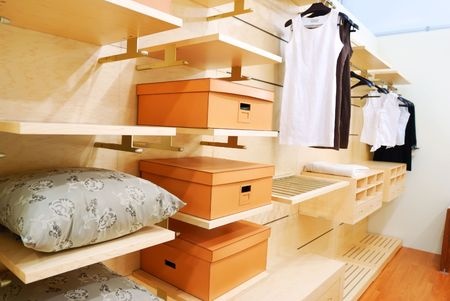 Spring is the perfect time to freshen up your closets.
The air is getting warmer. The freesias have pushed up along the sidewalk. And you are just beginning to believe that spring is here to stay. 
This is the perfect opportunity to clean and safely stash away winter clothes and get your summer duds fresh and ready to wear. Sound overwhelming? It doesn't have to be. Keep it simple - and spring clean your closet. Here's how.
Divide and Conquer
Most people (unless you live in Miami) have a summer and winter wardrobe - even if the word "wardrobe" sounds a bit upscale for the clothing in their closets.

To maximize closet space - and your clothes' lifespan - now's the perfect time to tuck the winter duds in for a good summer's rest. Go through all of your clothes and divide them into distinct piles.
You know the drill here. After you spring clean your closet, donate the outgrown or never worn clothing, and clean and repair the rest. Box up the winter clothes for a rest.
While the closet is empty, vacuum it well and wipe down all the shelves.
Spring Clean Your Closet: Care Tips for Clothing Keepers
Now you have the closet ready for clothes that you are actually going to wear. What a concept. Here's how to take the best care of what you have left.
Use cedar balls

or blocks to ward off moths.

The newer variety today doesn't smell as bad as you may remember, and do plenty of goo

d by keeping munching moths at bay.



Use proper hangers.

Don't use the flimsy wire things that you get from the dry cleaners. They don't provide enough support, plus they can rust or snag clothing. Invest in curved wood or plastic hangers for suits and jackets. Padded hangers for delicate dresses or silk robes. Plastic hangers for blouses and jeans. Clamped hangers for pants (always hang from the cuffs). To save space, buy the multiple skirt or pants hangers that will accommodate five to 10 garments.



Never store clothing in plastic bags, which can promote mildew and light damage.
Use plastic shoulder protectors to keep dust off rarely worn garments.
Space clothing out

to promote airflow

and to minimize wrinkling.
Air clothing overnight before returning it to the closet to rid it of any moisture or odors.
And finally, don't be like your kids and wear the same thing every day. Clothing needs a rest. (Shoes, too.) If you like it that much - buy two.