Washing Curtains and Window Treatments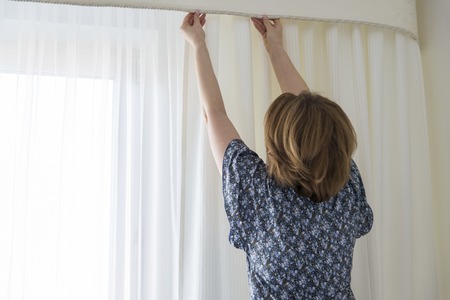 Tips for washing curtains and window treatments at home.
Washing curtains and window treatments. When I was a kid, part of spring cleaning was taking down every curtain, sheer, and blind in the house and washing them. 
A huge part of spring cleaning was hanging them all back up. (I hated spring cleaning.) Washing the metal blinds was the only fun part. We would put them in the wading pool and scrub them.
Today most experts agree that you shouldn't take widow treatments down at all. Just clean them where they are. That said, here's a guide to washing curtains and window treatments at home.
Washing Curtains and Window Treatments
Curtains and drapes mostly get dusty. Very dusty. The best way to keep window treatments like curtains clean is to vacuum them thoroughly, top to bottom, at least twice a year. 
Another option is to take down the treatments and send them for a 10-minute spin in the dryer on the fluff cycle. Then, of course, you have to hang them up again (ugh).
Are the drapes a little soiled? Call in one of your local cleaning services. Most drapes must be professionally cleaned. Some cleaning services use a solvent/extraction method directly on the curtains as they hang in the  windows.
That way, you don't have naked windows while you're waiting for them to return. Heavily soiled drapes, however, will probably need to be taken down and sent out.

Washing Curtains and Window Treatments - Window Sheers
Window sheers are some of the most challenging window treatments to clean because they are very fragile and stretch easily.  For best results, dust them weekly with a feather duster.
If you use a vacuum, use low suction to keep from stretching or puckering the material. Clean only one small area at a time in short, horizontal strokes.

Consider using a drapery cleaning service to clean sheers. Look for one with portable injection/extraction machines that wash the sheers without solvents as they hang.

Cleaning Window Shades
Dust window shades regularly. If you use a vacuum, be careful not to apply too much pressure. Or, you can blow off dust with a blow-dryer set on low.
Spot-clean shades with a sponge dipped in mild hand dishwashing detergent. Gently blot dry with a clean, lint-free rag.
Cleaning Window Blinds 
Dust, vacuum, or blow-dry window blinds regularly.To clean wooden painted louvers, tilt them almost all the way up and wipe them with a cloth moistened in a mild detergent solution; then tilt them almost all the way down and wipe again. This ensures that you clean the middle, too.
Don't wet stained wood shutters because this may damage the finish. Instead, clean them with lemon oil or a wood preservative.

Probably the most efficient way to wash vinyl or metal miniblinds is ye olde traditional method of taking them down and immersing them in a bathtub full of soapy water. Rinse them, and then the hang blinds over the shower rod to dry.
Don't wash or dry-clean fabric vertical blinds. Clean vinyl or aluminum vertical blinds with a damp cloth. Leave a light film of detergent on the vanes to reduce static electricity. 
Washing Curtains and Window Treatments Safely
Washing curtains and window treatments such as some valances in the washing machine is something you can tackle yourself at home (see tips on washing curtains below). As long as they are washable, and especially if they aren't lined.
Before washing, examine them for sun rotting. If they have rotted, don't bother washing them. Just replace them.

Treat stains on soft window treatments by first applying a stain pre-treater or laundry detergent and allow it to penetrate the fabric for five to 10 minutes. Wash your curtains as usual in the washing machine in warm to hot water with bleach and laundry detergent. If this doesn't completely remove the stains and odors, repeat and wash in the washing machine again.
Don't put soft window treatments directly from the washing machine into the dryer until you're sure the stains and odors are eliminated.

To keep cotton and other fabric window coverings from shrinking, after a spin in the washing machine, allow them to air dry instead of placing them in the dryer.
Finally, resolve to keep your window coverings as clean as possible by vacuuming them weekly. That way, you won't have to repeat this time-consuming process in the near future.
Washing Curtains and Window Treatments