how to clean silverware  in 3 easy steps
How to clean silverware?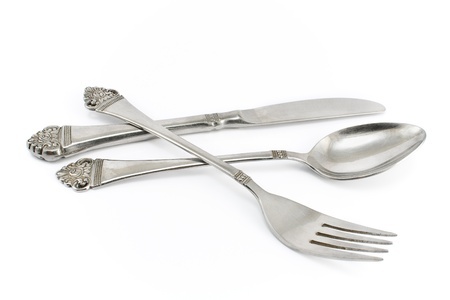 Believe it or not, toothpaste is one of the best and least expensive ways to clean silverware of that annoying tarnish that builds up over time. 
Silverware - whether sterling or sterling plate - generally responds the same way to a variety of tarnish removers, toothpaste included (namely, the tarnish is successfully removed).
The only caveat to be aware of when using toothpaste is to be sure the paste is white in color, and is free of whitening additives or baking soda.

  1   Place a Cotton Sock on Your Polishing Hand
To begin, dampen a cotton sock under cool running water. Squeeze out any excess water with your other hand.

  2   Apply Toothpaste to the Sock
Squeeze a pearl-size drop of toothpaste onto the dampened sock at your fingertips. Using up-and-down (not circular) strokes, rub the toothpaste onto the front and back of silverware.
To get the toothpaste between silverware tines and other tight spaces and grooves, pull the sock away from your fingers at the tips and twist tightly.
  3   Rinse the Toothpaste from Your Silverware
Rinse the toothpaste from your silverware under cool running water. Remove the sock from your hand and set aside; grab and don its mate, and polish the silverware dry. 
Preventing Future Tarnish
Store silverware behind glass, in an airtight plastic bag, or in a chest lined with tarnish-resistant flannel. 
---
---