Cleaning Stainless Steel Pans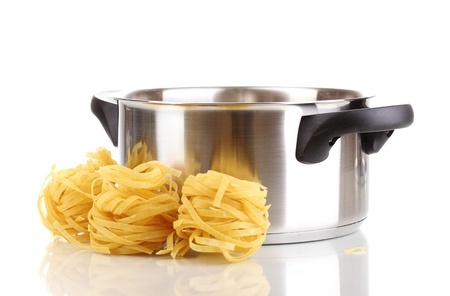 Resist the urge to submerge; less is more when it comes to cleaning stainless steel.
Over time, stainless steel pots and pans tend to build up a film that it often seems no amount of scrubbing can remove.
This material is aptly named, thankfully. True to its name, it resists stains, but it can retain only fingerprints.
The quickest way to remove burnt on stains or scorches is using a metal polish or cleaner, the type you'll find at your local grocery or hardware store. But there are other options for cleaning stainless steel pans you can try at home first. 
Wear gloves to protect your hands from the metal polish and the metal from fingerprints when cleaning stainless steel pans.
Cleaning Stainless Steel Pans
Rinse stainless steel pots and pans under warm running water and use a mild dish soap such as dishwashing liquid to remove surface dirt.

If marks persist, clean stainless steel wash hand with phosphate-free dish-washing liquid to

remove stains, or use club soda to remove streaks or heat stains.
Cleaning Stainless Steel Pans