Guests Sharing Sleeping Space
In Your Home's Common Areas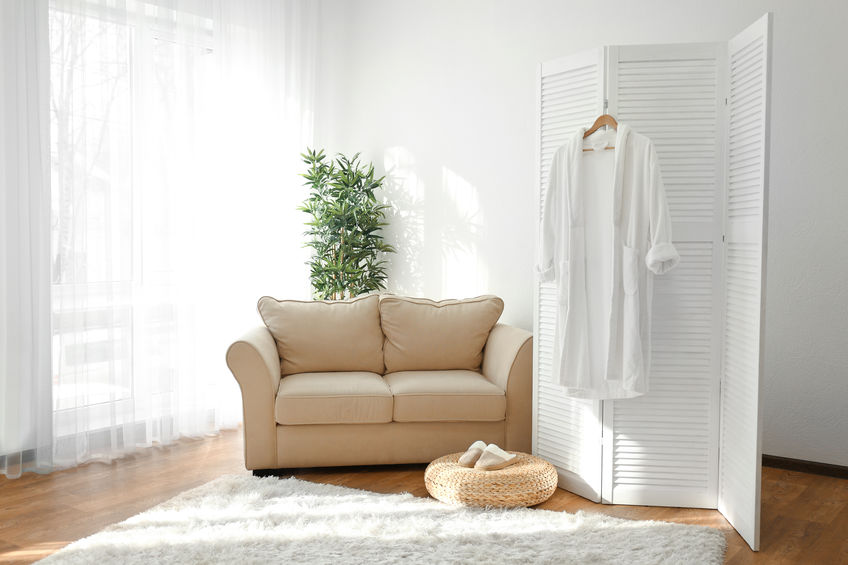 If a room of one's own isn't in the (house) plans for your overnight guests, you can make the most of a daybed or inflatable bed placed in the living room, play room, or multi-purpose room. 
There are many creative ways to make virtually any communal space feel more private, with a limited amount of expense.
These tips for guests sharing sleeping space in your home can help ensure everyone enjoys the visit.
Select Flexible Furniture for the Multi-Purpose Room
To help ensure guests sleeping in a playroom don't feel like they're overnighting in, well, a playroom, balance youthful touches with a subdued palette and elegant (yet sturdy) details. 
A daybed works as a couch or overnight crash pad, while a round drop-leaf table can be repositioned against a wall to create more floor space.
Provide Privacy for Guests Sharing Sleeping Space
Provide privacy for your guests sharing a community area for sleeping in your home - or at least the feeling that there is some with a room divider screen placed between the sleeping area and the main area.

It can make a world of privacy difference. You can use it as a decorative accent when guests aren't around. Position the sofa so that it faces a wall or corner instead of directly into the room.
Remind the kids that this room is not to be used until your guest rouses herself. (Emphasis on the last part.)
These aren't essential appliances to offer, but providing them might get you back in the will.
Coffee maker and cups (for really early risers)
Small refrigerator (You know, the kind you used in the dorms. Stock it with a few bottles of water and juice and a snack or two.)
Travel-size steamer or iron
More extras: These lovely extra amenities are merely icing on the cake. 
Basket of food (fruit, cookies, crackers, tea bags, and instant coffee).

Basket, bowl, or, so your guest has a visible place for keys, jewelry, and other essentials.

Lint brush. (Especially if you have pets.)
Warming rug next to the bed (if the floor is hard and cold).
You could, of course, provide these for a guest with a room of her own, too, but I have them here out of guilt for the guests sharing sleeping space!
Guests Sharing Sleeping Space