tips for guests sharing sleeping space
If a room of one's own simply isn't in the (house) plan for guests, you can make the most of a cot or inflatable bed placed in the living room.
In fact, there are creative ways to make virtually any communal space shared feel more private, with a limited amount of effort.
These tips for making your overnight guests comfortable in a shared space will help ensure everyone has a great visit in your home.
Provide Privacy for Guests Sharing Sleeping Space in Your Home
Provide piracy for your guests sharing a community area for sleeping in your home - or at least the feeling that there is some with a
Privacy Screen Room Divider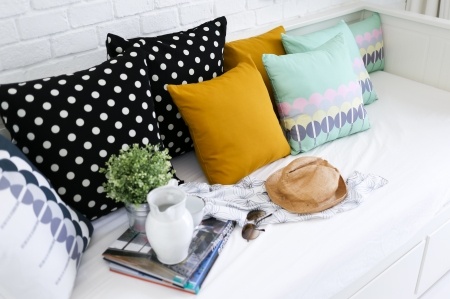 You can use it as a decorative accent when visitors aren't around. Position the sofa so that it faces a wall or corner instead of directly into the room.
Remind the kids that this room is not to be used until your guest rouses herself. (Emphasis on the last part.)
These aren't essential appliances to offer, but providing them might get you back in the will.
Travel-size steamer or iron.
Provide Guests With Cozy Extras
More extras: These lovely amenities are simply icing on the cake.
Basket of food (fruit, cookies, crackers, tea bags and instant coffee).
Basket, bowl or other empty decorative container so your guest has a visible place for keys, jewelry, and other essentials.
Warming rug next to the bed (if the floor is hard and cold).
---
---