Kids Party Planning Ideas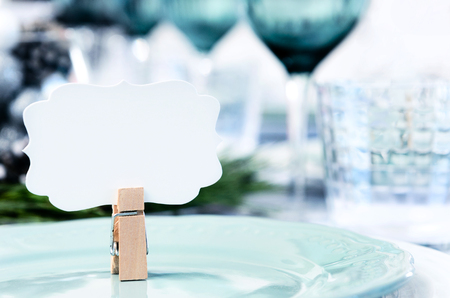 There are lots of ways to get kids involved in party planning and help make them feel part of the fun.

After all, party planning shouldn't always fall solely on the grown-ups in the house. A festive gathering at home will, by its very nature, involve the kids in one way or another.
Help them feel invested in the party by getting them involved with these kids party planning ideas.
Kids Party Planning Ideas: Place Card Makers
These kids party planning ideas do double duty - they help with creating festive decor, and involve kids in the party process.

First up: Place cards. It's convenient to have place cards for any kind of sit-down dinner, even an informal one. Place cards eliminate the uncomfortable where-do-you-want-everyone-to-sit dance. This is a definite enlist-the-kids project.
Kids party planning ideas: Have them paint the little cards gold or apply sticker decorations. You can write the names on yourself, unless your tween or teen has terrific penpersonship.
Use first and last names (John Smith), titles and names (Dr. Musto), or only nicknames (Grams and Gramps) for more intimate affairs. Place the cards on top of or in the napkin's center. Better yet, place them on the tablecloth at the exact center of each place setting.
Create Party Place Mats
Placemats: Have kids create leafy placemats. They're perfect for fall gatherings. Start by gathering a variety of leaves of different sizes, shapes, and textures. Position white paper placemats over the leaves. With a peeled crayon, lightly rub the top of each placemat until the outline of the underlying leaf appears.
Repeat with other leaves and different colors of crayons until you have a festive pattern. Cover the paper placemats with plastic and enjoy. You might want to make some for the grandparents, too.
Table Centerpiece
Table centerpiece: Even if you're not eating a sit-down meal at the dining room table, a centerpiece is a lovely decoration. You can tie it into your theme!
Get your kids to help brainstorm ideas. Whether you choose flowers or fruit, your centerpiece is one of the essential pieces of your table setting. Create or order yours well in advance, and, if you ordered it, pick it up the morning of your party. As the name implies, place your centerpiece in the exact center of the table.
Place your brand-new white candles at each end of the table, halfway between the places of the host and hostess and the centerpiece. (You already knew that the host and hostess sit on opposite ends of the table.)

How Kids Can Help Ready the Patio
Ready the patio: Casual parties are often outside, or else they eventually spill outside, so make sure your patio and all the patio furniture is clean.  

Wash off glass tables. Make sure the umbrella is operational. Put out enough chairs so that people can rest somewhere.
Arrange potted plants in beautiful groupings. If you're barbecuing, make sure the grill is clean and that you have plenty of charcoal or propane.
Position the grill in a corner where kids won't be running by. But choose a spot where there's enough room for the Dads to hold court over the flames.
Have a great party!
Kids Party Planning Ideas