Creating New Family Traditions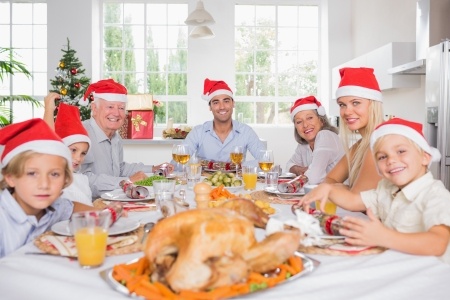 Creating new family traditions.
Creating new family traditions. Traditions make a house a home and a group of people a family. They distinguish your home from a hotel and your family from the one next door. They are what makes your family special.
They are an integral part of family life. Think of them as your children's memories. When your child is grown and reflects on the family, it's those unique things your family does that she'll remember. Count on it. 
Traditions Aren't Just About Holidays
When it comes to creating traditions, it's important to remember that traditions aren't just a holiday thing. You create traditions every day - they're anything that you do regularly as a family.

Having dinner together is a tradition. Your places at the table are a tradition.

So are big Sunday morning breakfasts; inside jokes; how you spend family vacations; favorite dishes; songs you sing in the car; how you celebrate birthdays; rainy day camps in the living room. Even bedtime routines are traditions.
Traditions make a child feel secure. And when the child reaches adolescence, traditions give her something to sneer at and rebel against. Just like we did. And that's OK, too. 
Creating New Family Traditions
When creating new family traditions, first think about what things your family likes to do together. Then assign a specific time of day for them. The anticipation is part of the fun. 
Your traditions will evolve with your family. Traditions suitable for young kids are often too hokey for teens. Some you may have to adapt to your children's ages. Others you may have to drop altogether.
But don't be surprised if they are reincarnated later when your children have children. Your traditions are part of your legacy.
Creating New Family Traditions to Try This Year
Would you like to create some fun Christmas traditions this holiday season? Need some ideas? Here are a few ideas to jumpstart your thinking.
Host a recipe exchange: Instead of a cookie exchange, get your friends together for a recipe exchange. Set a theme. It could be fast meals for school nights. Holiday hors d'oeuvres. Holiday desserts. Then have a potluck party where everyone brings their favorite dish and copies of the recipe for all participants. You go into the holidays (or the new year) armed with new menu ideas.
Create a Christmas chore tree: There's so much to do for the holidays that everyone needs to chip in. Here's a fun way of delegating tasks: Set aside a small artificial tree with no ornaments. Assign each family member a color bulb and tasks to help prepare for Christmas. As he/she accomplishes each task, she can hang one of her ornaments on the tree. The first person to hang all his/her bulbs wins a special gift, surprise, outing - whatever is treasured in your family.
Reading night: One night, I had some friends over to help decorate our tree. In the middle of decorating, we noticed the two girls (about eight at the time) curled up on the couch listening to a Christmas story on the radio. In this visual TV age, we often forget how listening to stories spark the imagination. Designate one night a story night. Make some hot chocolate. Then turn off the lights and sit by the fire and read aloud, tell stories, or talk.

Secret Santa: There are all sorts of ways you can help the less fortunate at Christmas. But kids need a face. Why not pick some family in your neighborhood, figure out something nice to buy or do for that family and do it. Leave it on the doorstep with an anonymous note. Kids love helping, and they love secrets.
Host a holiday craft party: Early in the season, hold a craft party for your kids and their friends and families. Research three or four holiday crafts and gather all the materials. Parents and kids will come, enjoy a little brunch and spend the afternoon making gifts for grandparents, teachers, etc. You can target the guest list toward a specific age group or just provide craft ideas for various ages. Smaller will be better here.
Creating New Family Traditions